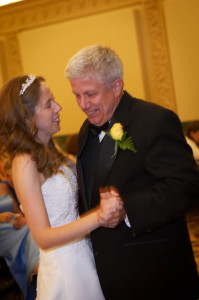 Mother of the Bride, can you guess what one of your most emotional moments will be on your daughter's big day? If you guessed the Father-Daughter dance, you guessed right.
If you're like me, when your little- girl-turned-bride and her daddy take to the dance floor on Wedding Day, you may come undone. Years of memories will flood your heart, and you'll feel like you're out there on the dance floor with them giving her away yet one more time. It may feel like your last hurrah as the most important family members in her life, but instead try to see it as a wonderful tribute to all the love you've shared over the years.
Here's a list of great song possibilities for this special tribute dance. Run them past your husband and daughter and see which ones they're drawn to. They may want to find the songs online and listen to them together. Another great memory in the making. Enjoy!
"In My Life" – the Beatles
"You Send Me" – Sam Cooke
"The Way You Look Tonight" – Frank Sinatra or Steve Tyrell
"Come Fly With Me" – Frank Sinatra
"My Girl" – The Temptations
"Isn't She Lovely" – Stevie Wonder
"Unforgettable" – Natalie Cole with Nat King Cole
"Cinderella" – Steven Curtis Chapman
"My Wish" – Rascal Flatts
"What a Wonderful Life" – Louis Armstrong
"Butterfly Kisses" – Bob Carlisle
"How Sweet It Is" – James Taylor
"My Little Girl" – Tim McGraw
"Times of Your Life" – Paul Anka
"You Are the Sunshine of My Life" – Stevie Wonder
"I Loved Her First" – Heartland
"It Had to Be You" – Ray Charles
"Daughters" – John Mayer
"You Are So Beautiful" – Joe Cocker
*Which is your favorite, MOB? Did you dance to any of these with your dad at your wedding?
*Photo by Chris Humphrey Photography
*Find details for the "Back At It" Giveaway on my home page! (Deadline to enter is 6 p.m. CST this Wednesday.)