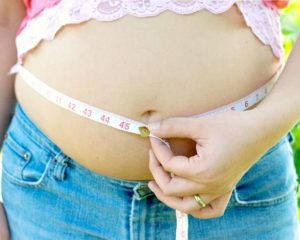 When my daughter Rachel announced she was planning her wedding for August, I knew immediately that I was in big trouble, where in the world would I find a mother-of-the-bride maternity dress? One glance at the garments displayed in the woman-with-child department of the nearest clothing store was all I needed to convince me of the futility of my search. They just don't make 'em, you know?
Still, I had to find something suitable. I was forty-three and would turn forty-four before the baby arrived in November. I'd be six months along by the wedding day—no way could I hide the embarrassing, yet wonderful, fact that the beautiful dark-haired bride was expecting a new baby sister.
Pregnancies are supposed to happen to younger women. By my age I was supposed to know better. No maternity wear is designed for "mature" women. I had to try—so off I went shopping.
I started at a formal and tux shop. The saleslady showed me a short black dress with a fitted bodice tied with a leopard print sash—no—just not me. She showed me a pale yellow t-strap satin with sequins ornamenting the waist and neckline. I tried it on. The full skirt swirled around my legs. Looking back at me from the mirror was a startled moose with jaundice.
How about a fire engine red, knee length gown with huge white zigzags running this way and that? Nah—I'd look like a distraught candy cane on steroids. I also passed up a pea green dress with a fitted camouflage-print jacket, rhinestones, and matching clutch purse.
Pink chiffon with loads of ruffled lace and a huge satin bow that hung down over the belly? Ugh! No way! Talk about a fashion victim.
Plans for the wedding proceeded nicely. Invitations were mailed. Cakes were ordered from a local bakery for the reception. Rachel was so excited—so happy.
We had a rice bag party and tied red velveteen ribbons on two hundred rice bags. We ordered flowers for the church, boutonnières for ushers, candle lighters, and groomsmen, and corsages for the pianist and servers. And one for Mama—Big Mama, who still had no dress to pin it to.
I checked out my closet to see what might do if worse came to worse. Way in the back was a deep rose-colored maternity dress with a white collar I had bought to wear during my last pregnancy—a mother-of-the-graduate maternity dress. (Yeah, you read that right.) It was only three years old. Maybe it could be resurrected. But, when I laid it out, I saw the large round oily stain on the backside.
One tired mom, six-months along, at the graduation celebration, I had plopped my caboose down in the nearest chair and felt the splat as I landed on a plate of cake with yummy white frosting with dark blue lettering.
"Oh, no, Mama," squealed my ten-year-old son, "You sat on my cake!"
"I realize that," I answered, (rather calmly considering), "and I am not getting up until all these people leave!"  The stain had never come out. Why had I saved the dress anyway? Good grief!
On a trip to the mall to find some of that white frou-frou sheer net material to swag the tables in the reception hall, I noticed across from the fabric store, a small maternity shop—named Motherhood. Motherhood—that was me—double dosing it! I went across to look around inside. You never know, and things were getting desperate.
There I found it at last—a robin egg blue ankle length maternity dress, with short sleeves and a scooped lace-trimmed bodice. It was not one of the wedding theme colors, but wouldn't clash. It wasn't fancy, but it fit. It would do. I bought it.
I felt conspicuous being escorted down the aisle that August to my seat of honor at the front of the sanctuary. I'm certain some of the guests were duly horrified, but what did I care? Don't all moms feel awkward and strange at their daughter's weddings, like they'd stepped out of a time machine into another world? Don't they all feel self-conscious and fat and a little old? Well, this day certainly wasn't about me anyway.
As I watched my girl come in on her Daddy's arm, and listened as she and her groom exchanged their marriage vows, I think I felt little Sis's firm kick of approval. I smoothed my mother-of-the-bride blue skirt and patted my blessing.
*You might also like to read Parting Thoughts of the Mother of the Bride.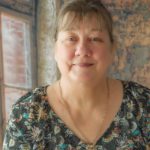 Elece Hollis is a grandma to twenty-five children. She and Ron live in Oklahoma where they tend an orchard of pecans and a small herd of Angus. Elece is an artist and a photographer and loves flowers, baking, and painting. Read her blog about country living at elecehollis.com.
*For info about my book Mother of the Bride and also my Wedding Inspiration cards, check out my Books/My Work page.
*The current issue of Life Notes, my quarterly inspirational newsletter with a giveaway in every regularly scheduled issue, came out yesterday. It's not too late to receive it. Sign-up is FREE and to the right! (If you're on a mobile device, scroll to the bottom of the screen and click View Full Site to find it.)