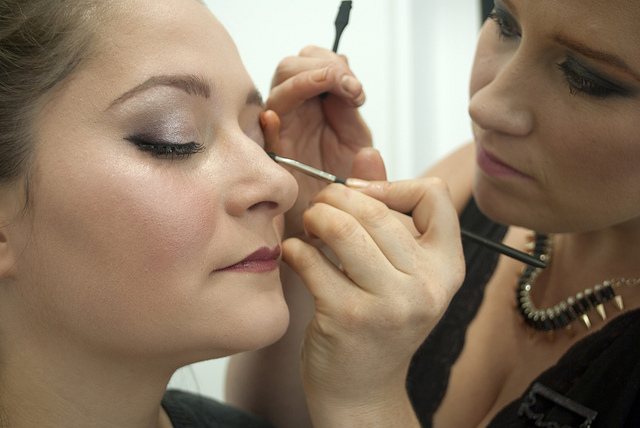 *I'll be taking a blogging break during Valentine's week. Happy Valentine's Day to all!
Mother of the Bride, a bridal shower is one of the highlights of the wedding planning experience. It's a time of fun, fellowship, and celebration with family and friends. It's a girly-girl time that is well worth making memorable in a variety of ways.
If you're contributing ideas to the shower or actually giving it yourself, MOB, one fantastic way to make it both special and helpful is to have a makeup practice-run and demonstration. Not only will it give the bride and her makeup artist a chance to have a run-through before the big day, but it will provide an entertaining and informative demonstration for the shower guests. Fabulous idea, right?
To make it even more interesting and fun, extra features/activities could be included. For instance, the makeup artist (and her team if she has one) could do your makeup and/or the bridesmaids' makeup as well. Different techniques and types of makeup would naturally be called for so all the more informative.
You could even have makeup samples for the guests to take home or lipstick shades for them to try at the party. And I bet you and the bridesmaids will be able to think of other ideas as well. Just have fun with it!
Does this sound like an exciting idea to you, MOB? If so, suggest it to the hostesses and see if it's something they'd like to make happen. Might as well make the shower as girly-girl—and helpful—as possible!
*You might also like to read Bridal Shower Idea: A Cooking Class and Bridal Shower Cake: A Cupcake Wedding Dress!
*For info about my book Mother of the Bride check out my Books/My Work page.
*The new issue of Life Notes, my quarterly inspirational newsletter with a giveaway in every regularly scheduled issue, came out last week. It's not too late to receive it. Sign-up is free and to the right! (If you're on a mobile device, scroll to the bottom of the screen and click View Full Site to find it.)