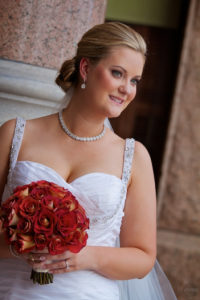 Mother of the Bride, have you given any thought to specific shots you'd like to see included in your daughter's bridal portrait session?
As a pro, her photographer will of course have lots of great ideas up his or her photo-snapping sleeve, but it never hurts to have a few ideas of your own to mention too—especially if you've seen a particular shot you'd love to see featuring your daughter.
One shot you might want to suggest is one taken from a spectator angle—one that looks as if the bride is looking at someone other than the photographer. Not only does it give a different vantage point of the beautiful bride, but it sparks the imagination of the viewer. Who or what is the bride looking at? Or watching for? What must she be feeling?
If you and/or the bride really like this type of shot, MOB, make a note to show it to your photographer when the time comes. You might even want to start a short list of shots you'd love to see him or her take. It will be fun to watch them come to life with your darling daughter as the star, right?!
*You might also like to read Bridal Portraits: Include Some Artsy Shots, Bridal Portrait Idea: Windows Plus Great Light, Bridal Portrait Idea: A Mirror Shot, and Bridal Portrait Idea: A Shot with Mom.