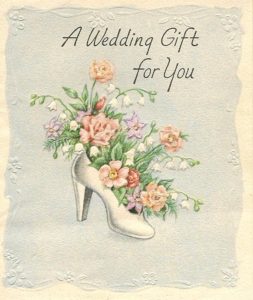 Mother of the Bride, when it comes time for your daughter and her intended to think about wedding gift options, remember that different couples will have different needs and desires. Some couples will want to register for gifts at a variety of outlets while others will select only one. Some couples are setting up housekeeping for the first time while others have already acquired many belongings.
If your sweet couple falls into the category of those who already have it all, maybe they would like to suggest that their guests give to a charity in honor of their marriage. In lieu of stating where they are registered on the wedding invitation or enclosed card, they could have a message similar to this one:
Brian and Robin have already acquired much of what they need for housekeeping. It would bring them great joy if you would give a gift in their honor to the charity of your choice and then share news of it with them in a card.
Is this something that might appeal to your daughter and soon-to-be son, MOB? If so, share the idea with them and see what happens. What a difference it could make for many!
*You might also like to read Wedding Registry Roundup and Mother of the Bride—Info Source for Gift-Givers.
*The next issue of Life Notes, my quarterly inspirational newsletter with a giveaway in every regularly scheduled issue, comes out tomorrow. It's not too late to receive it (though you won't be eligible for the giveaway until the next issue.) Sign-up is free and to the right! (If you're on a mobile device, scroll to the bottom of the screen and click View Full Site to find it.)