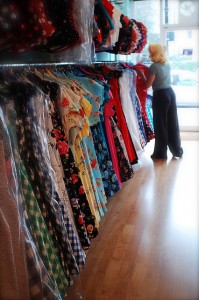 Mother of the Bride, have you started shopping for your dress yet? I know finding your own dress is probably way down on your list of priorities, but it must be done.
Don't feel free to do it yet? I understand. After you've gotten all the vendors secured, helped find the bride's and bridesmaids' attire, helped with all the choices and orders for flowers, cakes, and food, made sure the invitations are ordered, and have taken care of a host of other time-sensitive tasks, you'll finally feel free to hit the stores and find the dress that will make you shine on your daughter's big day.
I wish I could tell you'll find the perfect dress in the first place you shop, but truth is, some of you may have some difficulty. I faced challenges in finding my dresses for both of my girls' weddings.
When you begin your dress quest, you may find that the colors available this season may not flatter you or coordinate with the bride's color choices. You may not like the styles that have swept this particular season. Or you may just have bad luck finding your size in the dress you love.
Here's a solution to help take some of the pressure off: Buy an in-the-meantime dress. Since you do indeed have to have a dress and if time is getting short, why not go ahead and purchase something that will work while you keep looking for the dress you'll love? I did this on my first time around the MOB block.
If you buy an in-the-meantime dress, be sure to check the return policy. You don't want to end up with the expense of two dresses when the overall cost of the wedding keeps climbing as it is. If the dress was on clearance, you might not be able to return it. But for most dresses, you may have anywhere from a month to ninety days to return the dress as long as you have the receipt and the tags are still in place.
Buying an in-the-meantime dress will give you the window of opportunity you need to find something you like better while setting your mind at ease. You'll know you've got a back-up tucked up your MOB sleeve. Happy shopping, Mother of the Bride—and good luck!
*You might also want to read Where to Find Your Mother of the Bride Dress and Mother of the Bride (or Groom) Dresses for You!

*Since the readership of the Mother of the Bride Blog is ever-changing, I hope this encore post from Oct. 2013 helped you today!
*The new issue of Life Notes, my quarterly inspirational newsletter with a giveaway in every regularly scheduled issue, came out earlier this month. It's not too late to receive it. Sign-up is free and to the right! (If you're on a mobile device, scroll to the bottom of the screen and click View Full Site to find it.)
*Flickr photo by imcountingufoz, Creative Commons License