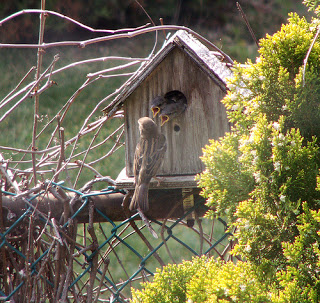 Remember last week when I fessed up to having gone slightly bird crazy this year? Well not only have I been noticing their different songs, but I've spotted a few hard at work feeding their young as well.
When we visited my parents over Memorial Weekend, I got to observe a particular bird's parenting skills over and over. Mom and Dad have a couple of birdhouses on their property, and bluebirds have built a nest in one. I had hoped to share a picture of the daddy bird's parenting prowess (he was easiest to spot because of his bright blue color), but darn it all, the shot is too blurry to post here on the blog.
This daddy blue bird took his responsibility very seriously. He worked tirelessly to feed his little namesakes. Time and again he'd come flying in from a distance to land atop the bird house and rest a moment before scooting through the little hole to where his young ones waited. Within seconds, he was out again, taking only a minute's reprieve before he was off scouting more food. He was a dedicated parent.
Have you spotted anyone feeding the young lately? You may be in the midst of feeding the young at your very own house—and I'm not just talking physical sustenance. As parents, we need to feed our children spiritually, too. Even when our kids are grown and gone, we still have opportunities to pour truth into their lives.
Have we in the past or are we currently filling our kids hearts and minds with the Word of God as we "sit at home and when [we] walk along the road" (Deuteronomy 6:6)? Have we exposed them to the spiritual teaching available in our churches?
We can also help nurture and feed other young ones besides those in our own families. Think of all the children in your circle of influence. Consider also the spiritually young, those who have only recently come to faith. They need us who are more mature in the faith to take our responsibility seriously. They need us to work tirelessly to help them grow and become strong in the Lord.
Let's demonstrate some parenting prowess. Let's be faithful to feed the young.
"Come, my children, listen to me; I will teach you the fear of the LORD." Psalm 34:11
*How are you feeding the young in your circle of influence?
*Flickr photo by Sister72
*Did you miss our big news? Read my previous post – "Please Pray – Our Kids Are Pursing Adoption!"