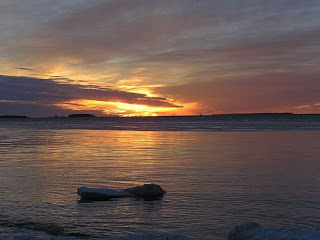 I've got to be honest. I've been feeling a little lonesome this weekend. A little left out. Not left out on purpose, but left out because of circumstance. All three of my sisters have been involved in family visits the past few days, but not me. I've had to stay close to home. With Don's mother's health teetering on the edge of another crisis, we just don't feel comfortable getting too far away.
My sister and brother-in-law from sunny Arizona are currently frolicking in sunny Florida with their son and his family (rough life, huh? :) ) while my other two sisters and their families have been enjoying a visit at my parents' place this weekend. I'm happy for all of them and the fun they're having together, but doggone it, I'd like to be right in the middle of it :) On the other hand, I feel kind of lethargic. Too weary to want to pack for a trip or have one more demand on our lives at this point.
So…I may not be in the middle of family fun right now, but you know what I am right in the middle of? I'm right in the middle of God's ever present love and care. Yes, I may have missed some family hugs this weekend, but God's arms are always open. Ever ready to wrap me in His loving embrace and assure me of His presence.
I'm so thankful that when I'm feeling a little lonesome, left out, or down for whatever reason, I can freely go to my heavenly Father and tell Him about it all. He knows our emotions play havoc with us at times, and He also knows there are times we hurt deeply. He stands ready to help us through it all. He is a refuge like no other.
Thanks for letting me share a bit of my heart with you today. I'm thankful for friends who care and lend an understanding ear. I'm thankful for you!
"Trust in him at all times, O people; pour out your hearts to him, for God is our refuge." Psalm 62:8

*Flickr photo by Wiking67