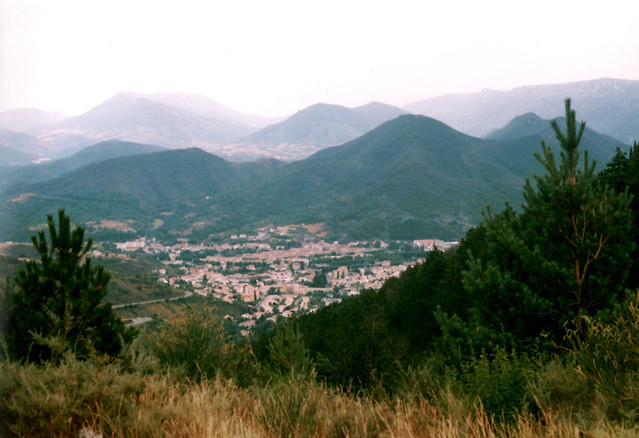 "As the mountains surround Jerusalem, so the LORD surrounds his people both now and forevermore." Psalm 125:2 NIV

I love this verse. After rediscovering it several years ago, I personalized it and made it part of my early morning prayer each day. Before even getting out of bed, I gave the Lord my day and placed my times in his hands. Then along with a few basic requests, I added, "And Lord, as the mountains surround Jerusalem, so surround me with your peace and your protection."
Sometimes the thought of being surrounded brings up negative images, but that's certainly not the case here. Not for me—not when it's the Lord doing the surrounding.
I suppose if someone didn't love the Lord or was trying to run or hide from him, it would be a frightening prospect to be surrounded by the Almighty. But for those who know and love him and look to him for help, great comfort lies in the precious knowledge of his surrounding presence and care.
The image of mountains, so strong and protective, surrounding a little town paints the perfect picture of what the Lord does for us, his people. The Lord stands guard, ever watchful, ever ready to protect and guide. He provides majesty and beauty, adventure and stability. He keeps us nestled in his peace as we look to him.
Each day let's picture ourselves surrounded by the Lord. Let's relax in his care. Let's snuggle down into that place of peace he has reserved for us. Let's fix our eyes on him. Let's be surrounded by his peace.
"I lift up my eyes to the mountains—
    where does my help come from?
 My help comes from the Lord,
    the Maker of heaven and earth.
He will not let your foot slip—
    he who watches over you will not slumber;
indeed, he who watches over Israel
    will neither slumber nor sleep.
The Lord watches over you—
    the Lord is your shade at your right hand;
the sun will not harm you by day,
    nor the moon by night.
The Lord will keep you from all harm—
    he will watch over your life;
the Lord will watch over your coming and going
    both now and forevermore." Psalm 121 NIV
*When have you felt supernaturally surrounded by God's peace?
*The next issue of Life Notes, my quarterly inspirational newsletter, comes out in early May. One lucky subscriber (new or current) will receive a $15 gift card to Barnes & Noble and a signed copy of my book to use personally, give as a gift, or donate to a library. *Temporary problem with Life Notes sign-up. To sign up, just contact me.
*For info about my book Mother of the Bride and also my Wedding Inspiration cards, check out my Books/My Work page.