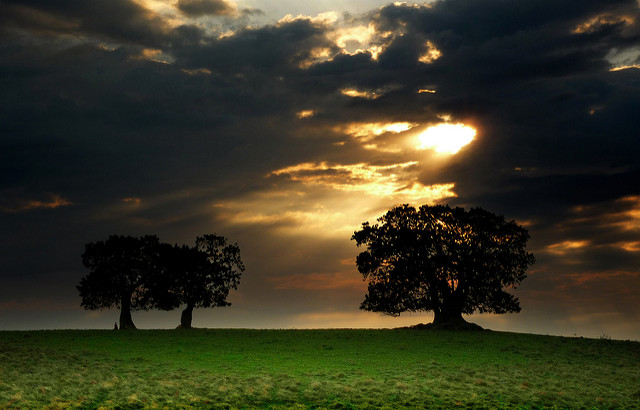 One day when I stepped out my back door to enjoy an early morning drink of nature and to worship its Creator, a welcome sight caught my attention. I spotted a glimmer of light and hope for a brighter sky as the day progressed. I saw the sun shining behind the clouds.
On most dark and gloomy days, I don't think of the sun at all, except for missing the light, the beauty, and the lifted spirits it brings to our world. On this day, however, the Lord parted the clouds at just the right moment and penetrated their melancholy presence with a reminder that no matter what the sky looks like from my vantage point, the sun still shines. The light is always there.
My thoughts soon went to friends and loved ones faced with dark and gloomy days of a different sort, far more serious than temporary cloud-covered skies. Several have been enduring life problems that hold no quick fix, and I wonder how long it's been since they've spotted a glimmer of light and hope for brighter days. I wonder if they remember the sun is shining behind the clouds.
My prayers go up for them and others like them today—that even though all they may see right now are clouds of despair, disappointment, or discouragement, I pray the Lord will penetrate their darkness and allow them to see that he is there. I pray that they will be reminded that the Son always shines behind the clouds.
"…the LORD turns my darkness into light." 2 Samuel 22:29 NIV
*How does the Lord make his presence known to you?
*The new issue of Life Notes, my quarterly inspirational newsletter with a giveaway in every regularly scheduled issue, came out earlier this month. It's not too late to receive it. Sign-up is free and to the right! (If you're on a mobile device, scroll to the bottom of the screen and click View Full Site to find it.)
*For info about my book Mother of the Bride and also my Wedding Inspiration cards, check out my Books/My Work page.
*Flickr photo by Vince Alongi, Creative Commons License
*I pray that this revised encore post from Sept. 2009 blesses you today!