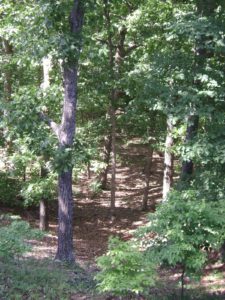 During a visit to Mom and Dad's several years ago, I woke early one morning and looked out the bedroom window. Sitting on the edge of the bed, I took a few moments and basked in the beauty of their then-backyard in the lush woodland hills of Missouri. The photo above shows part of what I saw, but my camera and photography skills don't do it justice. They had a gorgeous view that was not only a treat for the eyes but for the spirit as well.
My thought that morning as I feasted on the scene before me? Beauty doesn't happen by accident.
That's right. No accidents in the world of nature. There is a Creator. Whether it's the hills of Missouri, the beaches of Mexico, or the birds that sing outside my door each day, the beauty of the world around us proclaims the handiwork of a Master Designer.
Each one of us bears his signature as well "For we are God's workmanship…" (Ephesians 2:10 NIV). And just as our outward beauty (yes, we are beautiful!) is no accident, our inner beauty doesn't happen by accident either. The same Creator who sculpted the mountains and painted the seas will mold us into loveliness if we present ourselves to him and submit to his loving and all-wise touch.
Do we trust him? Are we ready to become the masterpiece he envisions? Let's allow him to unleash his handiwork on the inside, too. After all, beauty doesn't happen by accident.
"Yet, you LORD, are our Father. We are the clay, you are the potter; we are all the work of your hand." Isaiah 64:8 NIV
*What is beautiful about the masterpiece God has created in you?
*The current issue of Life Notes, my quarterly inspirational newsletter with a giveaway in every regularly scheduled issue, came out earlier this month. It's not too late to receive it. Sign-up is FREE and to the right! (If you're on a mobile device, scroll to the bottom of the screen and click View Full Site to find it.)
*For info about my book Mother of the Bride and also my Wedding Inspiration cards, check out my Books/My Work page.
*My photo