My husband Don and I took a walk on the wild side recently. But we didn't go bar-hopping or get crazy and shake our groove-thangs. Instead, for the first time ever, we vacationed in the Grand Tetons and Yellowstone wilderness area.
We were blown away by the vastness and variety of God's creation—mountains, rivers, waterfalls, valleys, lakes, canyons, geysers, hot springs, wildflowers, sage brush, and the list goes on—but the opportunities God gave us to view wildlife were unparalleled for us thus far in our lives.
What a treat to head out each day with my trusty camera and see what wonders—and memories—I might get to capture through photos. During this last week of Summer Photo Fun, I'm thrilled to give you a taste of wild-side living like no other. Hope you enjoy!
About thirty minutes before we reached Jackson, we spotted our first wildlife of the trip. This pronghorn wasn't alone, though. There was a small herd with him!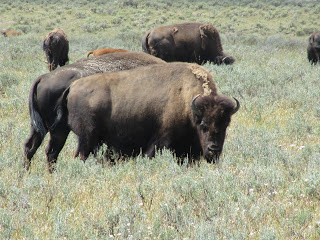 On one of our days in Yellowstone, we got to watch a herd of buffalo in Hayden Valley while we sat in our car and ate our lunch. A once-in-a-lifetime experience, huh?
Elk enjoying a rest in the early evening hours near the Madison River at Yellowstone.
We got to watch pelicans on the beautiful blue waters where the Yellowstone River empties into Yellowstone Lake. These three liked to hang out together :)
And there they go. The three buddies flying off to parts unknown. By the way, I discovered that pelicans fly fast! I was happy to capture a shot of them in flight.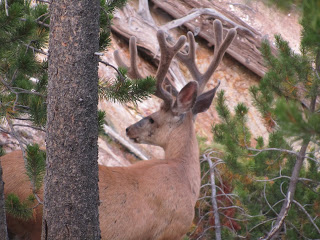 Don was the first one to spot this buck (a mule deer). When passersby saw me snapping pictures, they stopped and hurried to take photos of their own. We caused quite a stir! :)
One night as we left the park, this Yellow-bellied Marmot stood at attention as we drove by. He must have been saying, "When will these people ever leave!" :)
Here's an elk finding available food in a burned out section of the forest in Yellowstone. Along with the wildlife, I loved all the wildflowers throughout the Tetons and Yellowstone.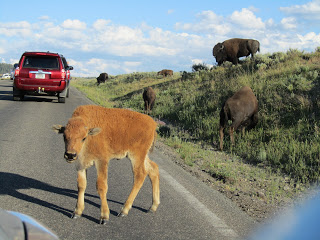 What fun seeing some of the babies of Yellowstone. As we drove through Hayden Valley again one evening, a buffalo herd was spread out across the road. This little guy was intrigued by our car :)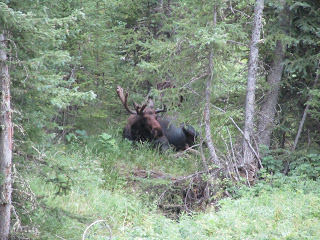 With just two days left of our time in the area, we finally saw what we'd been longing to see all week. Moose! This guy was huge!!
The next day (our last day) we saw a mother moose with twins! Another once-in-a-lifetime experience, I'm sure. They were feeding along the Gros Ventre River in Grand Teton National Park.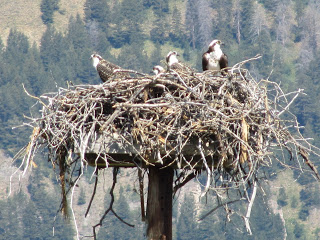 This nest of Osprey sat on top of what looked like an abandoned telephone pole not far from our condo. I didn't even notice it until I saw another woman taking a photo.
And finally as we left the Jackson area and headed home, we spotted this momma and baby pronghorn and stopped one final time to take more photos. What a treat!
Hope you've enjoyed a peek at our wildlife adventures. I think they were my favorite part of the trip. Well, that and the mountains . . . and the wildflowers . . . and the lakes and the . . . Yes, I loved it all! :)
"I will praise you, O LORD, with all my heart; I will tell of all your wonders." Psalm 9:1
What's the most interesting wild animal you've ever seen?
*You can see more of my vacation photos on Facebook. If we aren't FB friends yet, what are you waiting for? :) Connect with me at www.facebook.com/ckbarker — just be sure and tell me you're one of my blog readers if I won't recognize your name.
*Life Notes, my quarterly inspirational newsletter, came out last week. It's not too late to receive it. Sign-up is free and to the right!