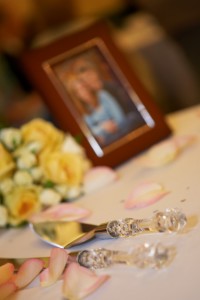 *Since my husband will be on Fall Break later this week, I'll be skipping my midweek post. See you again next Monday!
Mother of the Bride, add this to your "to-do" list: find two cake knife and server sets. That's right, you'll need nice sets for both the main cake table and the groom's cake table. It's easy to forget about needing a set for the groom's cake so put it on your list now and save yourself from a last minute cake-serving crisis. Heaven knows you want to avoid as many last minute glitches as possible, right?
I would suggest borrowing both sets or perhaps buying one beautiful set as a shower gift and then borrowing another set. The one you buy as a gift could be used for the main cake table, and the other set for the groom's cake table.
Asking the groom's mother if she has a set that could be used for the groom's cake is an excellent way to help her feel included. If she doesn't have a set herself, she may be able to borrow a set. If you're trying to borrow both sets, you can ask other family members and friends or even check with your caterer to see if she has a set available for your use. You could also check with your church.
So MOB, line up your cake-cutting utensils now—and then prepare to enjoy the yumminess of both cakes on Wedding Day!
*You might also like to read Cake-Cutting Wedding Day Tip, Wedding Savings Tip: Borrow!, Make the Mother of the Groom Part of the Team, and Mothers of the Bride Pay It Forward.
*My annual Life Notes Subscriber Appreciation Giveaway is now underway. All subscribers, new and old, will be included in the draw for a $25 gift card to Barnes & Noble. Sign-up is to the right under "Free For You." See my home page for details!
*Photo by Chris Humphrey Photographer