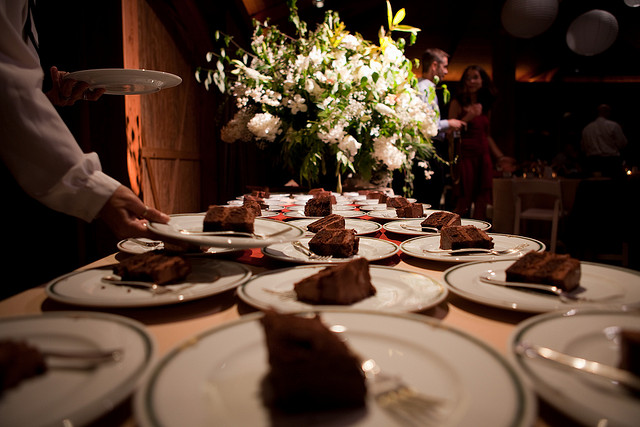 Mother of the Bride, here's an important cake-cutting tip for Wedding Day: After the bride and groom have cut the traditional first slice of cake, make sure that both the main cake and the groom's cake are then cut and made available to the guests at the same time.
It's a fact of wedding life that almost every wedding guest in the world looks forward to indulging in a piece of cake at the party. If someone wants a piece of the groom's cake, don't keep them waiting while the wedding cake is sliced for those who want a piece of the star-of-the-show cake. At most weddings, the guests have already been in waiting mode for the cake-cutting, so the last thing we want to do is keep them waiting longer than necessary.
Make arrangements ahead of time with your caterer for simultaneous cake-cutting. I didn't realize I should have done this until we ran into a problem at one of our daughters' weddings.
The on-site caterer for that wedding was busy cutting the main cake herself and had not assigned any of the servers to cut the groom's cake. When I asked her to have someone start cutting the groom's cake, she responded in a negative way. As a result, both cakes weren't available to our guests until later. I'm sure some guests even had to leave before the groom's cake was cut. On top of that, it was an unhappy Wedding Day experience for me as I was rebuffed by someone we were paying to serve us.
So learn from my bad experience, MOB, and arrange for simultaneous cake-cutting ahead of time. Your guests will be happy—and you will be happy as everyone joyfully savors the cake of their choice on your daughter's big day. Now, "let them eat cake!"
*If you and your friends and family are taking care of the catering by yourselves, just be sure to assign helpers to cut both cakes at the same time.
*Flickr photo by Lars Plougmann, Creative Commons License
*You might also like to read Three Tips for Working with Your Wedding DJ, Wedding Day Tip: A List for the Photographer, and Day Before Wedding Tip: Preview Flowers.