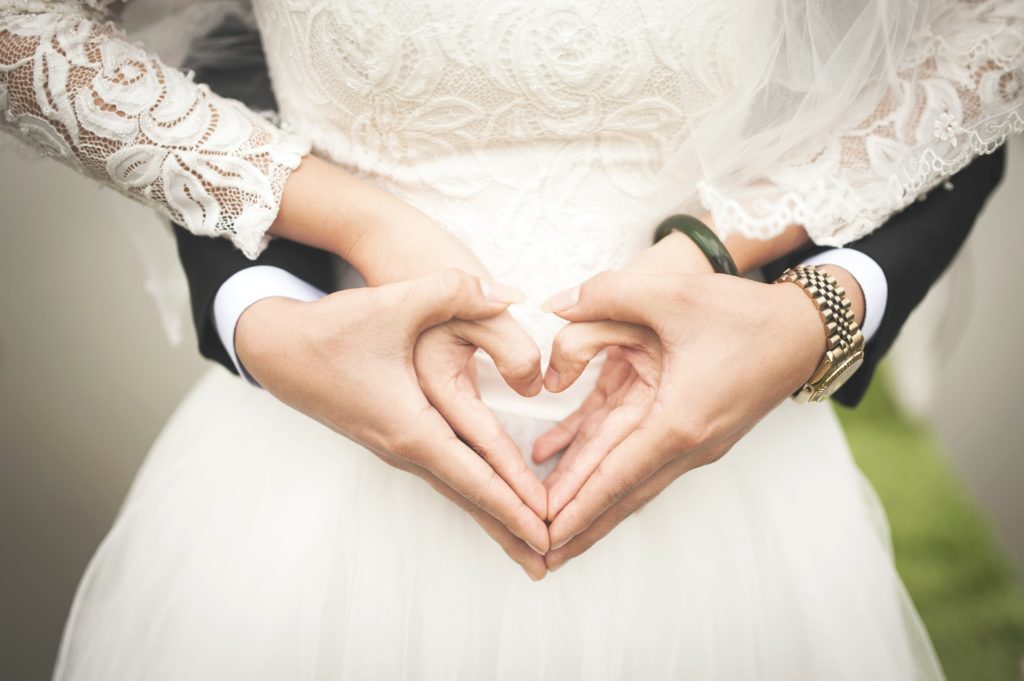 Mother of the Bride, have you started keeping your eyes peeled for wedding day photo ideas? As soon as you heard your little girl was going to become a bride, I bet you started noticing anything and everything wedding-related, photo ideas included. Might as well start a list to share with the bride, right?
The photo above—the bride and groom making a heart out of their hands—is a super sweet shot your darling daughter might want to suggest to their photographer.
This shot not only exudes romance and the couple's unified love, it showcases a portion of their wedding attire as well. To top it off, it's an appealing photo simply because of its centered and symmetrical composition and the contrasting colors featured. In other words, a perfect photo!
So MOB, why not show this idea to your daughter? I'm willing to bet she'll love it. Plus, she'll enjoy a few extra minutes of being wrapped in her groom's arms!
*You might also like to read Wedding Photo Idea: A Veiled Kiss, Wedding Photo Idea: Black and White Bubble Shot, Wedding Photo Idea: The Corner Shot, and Wedding Photo Idea: Groom Admires His Bride. 
*For info about my book Mother of the Bride check out my Books/My Work page.
*Have you subscribed to Life Notes, my quarterly inspirational newsletter with a giveaway in every regularly scheduled issue? If not, sign-up is FREE and to the right! (If you're on a mobile device, just scroll to the bottom of the screen and click View Full Site to find it.)
*Free Pexels photo