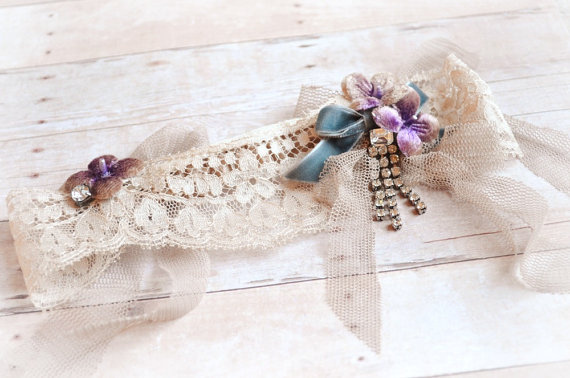 Mother of the Bride, would you like to add some sparkle to your darling daughter's bridal garter? The traditional ribbons and lace are, of course, always feminine and pretty, but why not add another special touch? Why not add some jewels?
As you shop for or create a bridal garter for your girl, be on the lookout for a small brooch or earring that will make the garter really shine. If you're making the garter yourself or having it custom-made, you can get as creative as you'd like in your design. I love the look of the dangly earring used in the photo above. Fun and elegant at the same time.
Go ahead, MOB—sparkle up the garter. I bet your daughter will be glad you did!
*You might also like to read Turning the Ordinary into Keepsakes, Bridal Bouquet Idea: Add Some Sparkle with Gemstones, and Wedding Idea That Sparkles: A Brooch Bouquet!
*Flickr photo by Bellafaye Garden, Creative Commons License