How about one last week of Summer Photo Fun here on the blog? Maybe a peek into some of the Barker family's vacation shenanigans? I thought you might be interested :)
We had major fun making classic memories together in Estes Park, Colorado and Rocky Mountain National Park. Three couples equals three cameras and lots of great photos (many of these are Kristin and Shawn's or Kelli and Jake's) so today I'll share some of our fun moments, and in my midweek post, I'll post pics of some of the beauty we encountered along the way. Believe me, there was no shortage of that. Calgon, take me back to Colorado! :)
The shot above shows us on first hike in RMNP (Bierstadt Lake Trail) on our first full day there. You can't really make it out here, but I spent most of that hike gasping for breath :) Can anyone say altitude adjustment? Oh well, we still had fun — as we did the entire week. Hope you enjoy a glimpse into our vacation family fun!
The hungry hikers chowing down that night at Smokin' Dave's BBQ. Yum!
Of course, we shopped as well during our trip, and Kristin fell in love with this little hand-blown glass pumpkin on the very first shop we entered.
While we were downtown, we Barker ladies had to test the waters of the Big Thompson (flows through town). Super cold, by the way!
We ran across three male models during another day of hiking (Lily Lake Ridge trail). They bear an uncanny resemblance to Shawn, Don, and Jake, huh? :)
One of the many timed photos we took (also taken on Lily Lake Ridge trail). Always fun to try to get into position and pull off a timed photo :)
Later that same day, we hiked up to Alberta Falls. After making it to the top, we all had to dip our toes into its icy waters.
When we took a day out to go to the rodeo in Cheyenne, WY, Jake turned into a cowboy. Thank goodness he still played games with us city slickers :)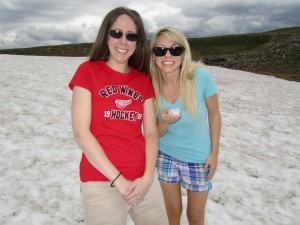 Got to play on a designated snow field along Trail Ridge Road in RMNP. These girls never did know how to dress for cold weather :)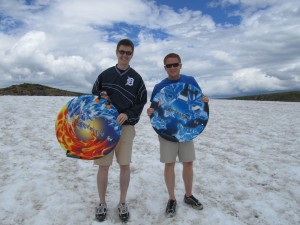 Jake grabbed the snow sleds/boogie boards from the garage in our condo hoping for just such an opportunity. Two very happy guys :)
The boys got to have their fun before threat of storms sent us hurrying back down to safer territory. The girls and Don all gave it a whirl, too, but not me. If anyone could break something, it would be me :)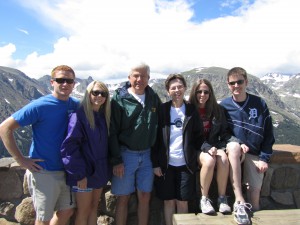 At Forest Canyon Overlook on Trail Ridge Road in RMNP. Our family on top of the world — in Colorado and in our hearts as well. Thank You, Lord, for such a special time together!
Our mouths were filled with laughter, our tongues with songs of joy." Psalm 126:2a
*If you'd like to see an entire album of our vacation shots, friend me on my Facebook page. If I won't recognize your name, be sure to mention that you're a reader of my blog.
*The current issue of Life Notes, my quarterly inspirational newsletter/ezine, came out last week. It's not too late to receive it. If you're not already getting it, sign-up is free and to the right!