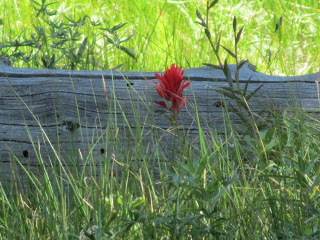 Wildflowers make the world a better place. They make a difference on this earth of ours—this earth God has created and given to us.
Wildflowers add color, beauty, and fresh life to their surroundings. Many spice up their corners of the world even more with distinctive scents. Their many species also offer variety and new discoveries when we visit places outside our own regions. In other words, they help keep life interesting.
In fact, the life of a wildflower is one we'd do well to emulate. Just think, wouldn't it be great if, when speaking about us, other might say, "She adds such beauty and color and fresh life everywhere she goes. Her fragrance is the fragrance of Christ. There's no one else quite like her. I love to be around her."
What do you say? Want to make the world a better place? Want to make a difference? Let's be wildflowers!
"For we are God's workmanship, created in Christ Jesus to do good works, which God prepared in advance for us to do." Ephesians 2:10
*What's your favorite wildflower? Or what kind of wildflower would you like to be? :)

*My photo (an Indian Paintbrush taken in Grand Teton National Park)
*The next issue of Life Notes, my quarterly inspirational newsletter, comes out in early May. Sign up is free and to the right!