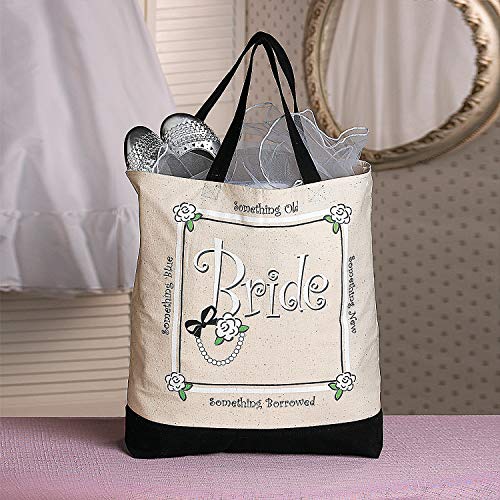 Mother of the Bride, if you're looking for a fun gift to help your daughter celebrate her journey as a bride, how about one of those cute tote bags designed especially for brides?
You could give it to her right after her engagement so she can use it throughout the months leading up to the big day. Or you might want to save it for her bridal shower so it will be something special for her to pack all the essentials and extras she needs on the big day itself. Bottom line, though, she will appreciate it whenever you decide to give it!
You or the bride might even like to purchase the tote bags that are available for bridesmaids as well. They would make a fun gift for the bride to give each one when she asks them to be a part of her big day. Or they would add a special touch to a bridesmaids luncheon or some other gathering especially for the bride and her maids. Again, they will be welcomed at any point.
And yes, they even have tote bags designed especially for you, MOB! You might want to treat yourself to one early on in the wedding planning process—or who knows, someone you know may gift you with one! Wouldn't that be fun?
Here are a few links to check out if you're interested in this fun idea:
Hope this helps. And have fun with it, MOB!
You might also like to read A Fun Gift from the Bride to Her Maids: Nail Polish!, Ten Thousand Villages Gifts for the Bridesmaids, Christmas Gifts for the Bride, Fun Gift Idea From Bride to Groom: Snazzy Socks!, and Wedding-Themed Shower Gifts.
*For info about my book Mother of the Bride and also my Wedding Inspiration cards, check out my Books/My Work page.
*The next issue of Life Notes, my quarterly inspirational newsletter, comes out in early February. One lucky subscriber (new or current) will receive a $15 gift card to Starbucks and a signed copy of my book to use personally, give as a gift, or donate to a library. Sign-up is free and to the right! (If you're on a mobile device, scroll to the bottom of the screen and click View Full Site to find it.)
*Public Domain Photo