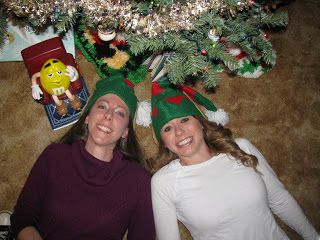 My big little girls are still at it. Still trying to capture the magic under the Christmas tree. As you can see, this year Kristin and Kelli sported elf hats while the Peanut M&M man even got in on the fun :)
These sweet girls of mine will probably still be taking this shot when they're my age because when it comes right down to it, they'll always be little girls at heart. Little girls that I love — at Christmas and always!
I'll be back with regular posts on Sunday. Enjoy the rest of your holiday week!