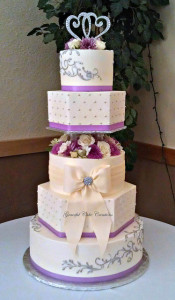 One of the myriad of details that your bride-to-be daughter needs to consider, Mother of the Bride, is what kind of cake topper she'd like to have. Lots of brides opt for fresh flowers these days, but a variety of other toppers can provide the crowning touch as well.
One classy and elegant option is pictured above—entwined hearts. This particular example shows jeweled hearts, but I've also seen the hearts in a silver or pearl finish. Other colors are probably available, too. And for a rustic-themed wedding, you might be able to find a pair in some kind of wood finish—or maybe even rope or something else equally as rustic!
The entwined hearts topper is a perfect symbol of what's taking place on wedding day, isn't it, MOB? Two lives joined together forever. Why not ask your sweet girl what she thinks of this idea? It may be just what she's looking for!
*You might also like to read Wedding Cake Topper Idea: The Tiffany Blue Box and Groom's Cake Toppers for the Hunter. 
*The next issue of Life Notes, my quarterly inspirational newsletter comes out next week, and author Suzie Eller has graciously offered to give one of my subscribers a copy of Come With Me, her new book coming out in May. If you haven't subscribed yet, now is a great time to do so. Sign-up is free and to the right!
*Flickr photo by Graceful Cake Creations, Creative Commons License