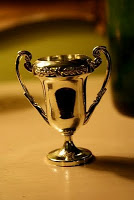 Believe it or not, it's October 1st. Time for the big announcement. The winner of the Help Me Out Giveaway is…Cecil! Cecil has won the $25 gift card to Barnes & Noble and his choice of one of the devotional books offered. I have emailed him to get a mailing address. Congratulations, Cecil!
Cecil is not the only winner in this particular giveaway. I feel like I'm the biggest winner this time because so many of you decided to help me build my mailing list when you signed up for the giveaway (remember, you signed up for my newsletter at the same time). Thanks to all 114 of you who showed your support!
I put out a call for help, and you answered. You lived the Golden Rule: "Do to others as you would have them do to you." (Luke 6:31). I had a need — to build a mailing list — and you helped meet that need. And as I think of you, I can't help but recall some other scriptures. Consider these:
"Carry each other's burdens, and in this way you will fulfill the law of Christ." (Galations 6:2) Also, "Therefore as we have opportunity, let us do good to all people, especially to those who belong to the family of believers." (Galations 6:6) You helped carry my burden. You did good to me. You have blessed me richly, and "…I thank my God through Jesus Christ for all of you…" (Romans 1:8a)!

How about you? Who or what are you thankful for today? Give thanks!
p.s. I'll send the first issue of the newsletter sometime in late October or early November. Hope it blesses you!
*Flickr photo by Shorts and Longs The Both And