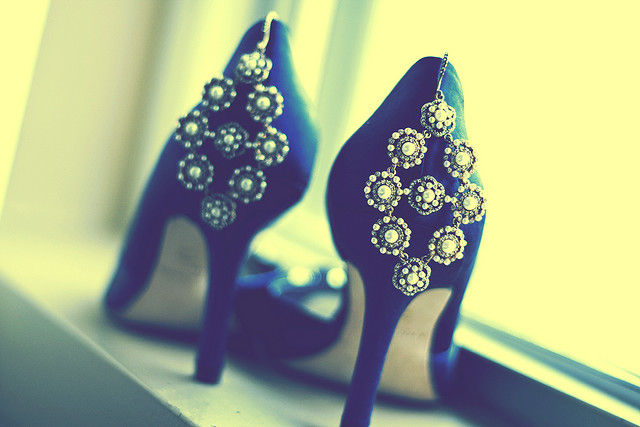 Mother of the Bride, don't faint if your daughter announces she wants to wear red or blue or purple shoes with her bridal gown. That's right, color for wedding shoes is in.
All you need to do is search wedding/bridal topics on Pinterest for a minute or two, and you'll see right away that brides are popping with color—on their feet! What a fun addition to the wedding wardrobe!
Not only will Pinterest prove the current color-trend in wedding shoes, but I heard it confirmed by Randy Fenoli of "Say Yes to the Dress" on one of Katie's Wedding Wednesday shows in February. And if Katie gives the go-ahead, it's got to be okay, right? :)
In addition to the super-fun touch that colorful shoes will provide, your daughter will also end up with some great photos plus a pair of shoes that she can wear long after the wedding is over. You can't argue with that kind of common sense, can you?
So MOB, toss traditional thinking aside if your daughter wants to jazz up her look on Wedding Day. Let her color it up—her something blue just might be her shoes!
*See my Bridal Accessories Pinterest board for more ideas!
*Flickr photo by Sweet Carolina Photography, Creative Commons License