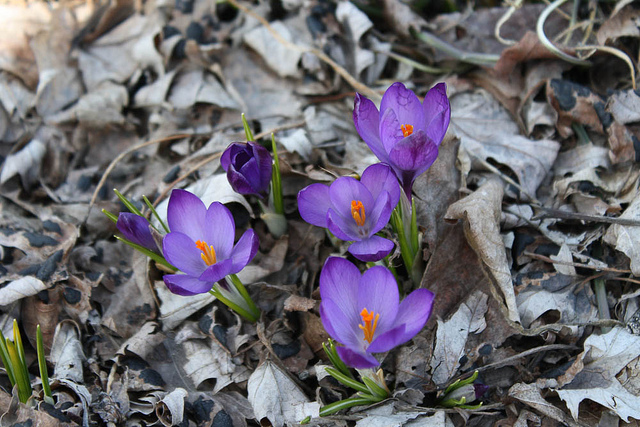 Not long ago, we got our first real taste of spring here in our corner of Kansas this year. Sunny skies and temps climbing well into the 70s left me inspired to flex my poetic wings. After all, if spring doesn't inspire a writer to dabble in poetry, what will, right? So, friends, here's my latest—hope you enjoy!
A Peek at Spring
Savoring it, that's what I'm doing,
the preview of spring
that came our way.
Winter pulled back
for a few delightful days,
and we frolicked with Spring,
we promised her our hearts
if she would but stay.
"Not quite yet," she said, "but soon.
I'll leave some calling cards
to remind you of hope,
to remind you I won't be long,
for I'll be back in all my glory
after Winter heaves another breath,
after Winter punches his time clock."
And with that she was off,
but true to her word
she left behind buds
bursting through winter's branches,
she dotted dry landscapes
with the redbreasts of robins,
she pushed early miracles through the soil
with a crocus here, a daffodil there
and spotty green evidence of life
to spruce up our yards of straw.
This peek at spring
what power it holds
to refresh and recharge
to give life anew
to remind us that hope
is not far away but always in reach,
to remind us that glory is on the way.
Thank you, Lord, for spring,
thank you for hope never-ending.
"And hope does not disappoint us, because God has poured out his love into our hearts by the Holy Spirit, whom he has given us." Romans 5:5
*What part of spring's preview do you most enjoy?
*Flickr photo by anneheathen, Creative Commons License