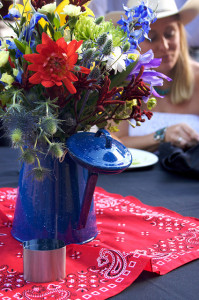 Mother of the Bride, has your beautiful bride-to-be decided what she'd like to use for the centerpieces at her wedding reception yet? If not, I have an idea for you today that just might catch her decorating fancy.
A watering can centerpiece, like shown above, is super cute and could be appropriate for several wedding styles or themes. This unique centerpiece featuring a watering can, flowers, and kerchief (or bandana, depending on your terminology) would be the perfect addition to weddings featuring rustic/country, cowboy/western, or picnic and other casual outdoor themes. As shown above in reds and blues, it could even be a great choice for a Fourth of July wedding.
This adorable centerpiece could be done in a variety of colors, too. Kerchief/bandanas can be found in tons of colors so if you and your daughter can find them in one of her wedding colors, MOB, just start from there and work up. If you can't find watering cans in one of your daughter's colors, just go with a standard metallic finish and then tie your colors back in with flowers in the wedding colors.
Why not show this creative and fun idea to your darling girl, MOB? Your centerpiece search might just be over!
*You might also like to read Centerpiece Idea: Mirror Magic, Centerpiece Idea: Flower Ring and Candle, Wedding Cake Trend: Multiple Mini Cakes, and Wedding Centerpiece: Cupcake Bouquets!

*The next issue of Life Notes, my quarterly inspirational newsletter, will come out in early August. Sign-up is free and to the right!
*Flickr photo by katinalynn, Creative Commons License