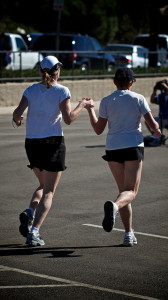 "…let us throw off everything that hinders and the sin that so easily entangles, and let us run with perseverance the race marked out for us." Hebrews 12:1b
"Us." One tiny word, two little letters, with giant impact.
Who is to throw off everything that hinders? Us. Who is to run with perseverance? Us. Who is the race marked out for? Us. Not me. Not you. Us. We don't have to run the race alone.
Just think of how that one little word changes everything. We can have support. We can have camaraderie. We can have the encouragement of others as we run our races, whether they're races wrapped up in relationships, jobs, illnesses, goals, losses, or living lives of faith with victory.
In fact, we're not meant to live the Christian life independent of other believers. Another passage in Hebrews (10:24-25) tells us, "And let us consider how we may spur one another on toward love and good deeds. Let us not give up meeting together, as some are in the habit of doing, but let us encourage one another—and all the more as you see the Day approaching." Do you see it again? Us. Yes, we need to run together.
Let's consider each of the races in our lives right now. Do we have running partners or groups running alongside for each one? Do we have those who are spurring us on, encouraging us, and giving us strength to persevere—or are we out there all on our own?
Let's not forget the little word that changes everything. Let's not forget "us".
"Two are better than one, because they have a good return for their work: If one falls down, his friend can help him up. But pity the man who falls and has no one to help him up!" Ecclesiastes 4:9-10
*Flickr photo by Drongowski, Creative Commons License
*Next post will bring the return of Summer Photo Fun. Don't miss it! :)