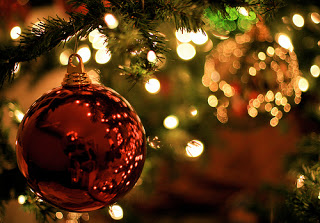 My friends, I'm thirsty. Thirsty for a date with my Christmas tree. And no, I don't want my tree to take me out on the town. Quite the contrary. I'm talking about one-on-one time right here at home.
You see, December is at it again. The days are disappearing before I have a chance to enjoy them as fully as I'd like, and it's time to do something about it. It's time to get proactive.
Yes, it's time to step away from the stream of holiday activity and set aside time to soak up the beauty and peace that quiet interludes before my Christmas tree affords. Oh, I 've enjoyed snatches of quiet time in front of my tree already, but those tastes of joy make me thirsty for more. I don't want the season to go by without spending more extended times there. Anyone else feel the same need?
What can we find when we take time for such private holiday moments? We'll find space to breath during the press of the season. We'll find memories of earlier Christmases celebrated with family and friends. We'll find joy in the beauty of the tree and in the spirit of worship a time of reflection inspires. And as all of this works together, we'll find contentment settling over us and wrapping us in folds of love and peace and gratitude.
Does that sound as good to you as it does to me? Then what are we waiting for? Let's spend some quality time cozied up next to the tree and let the wonder of the season work its magic. Let's go on a very important date. And no excuses. It's come as we are—to the tree and to the Lord. Just the way we need it.
"Whoever is thirsty, let him come; and whoever wishes, let him take of the free gift of the water of life." Revelation 22:17b
*What do you most enjoy about spending time in front of your tree?
*Flickr photo by jurvetson
*Deadline to enter the "Warm Me Up" Holiday Giveaway is noon CST Dec. 16. Don't miss out! :)