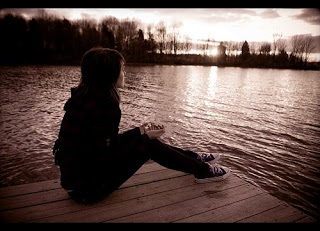 "[Paul] was…praying one day in the Temple, lost in the presence of God…" Acts 22:17, The Message Remix

Oh, to be lost in the presence of God as we pray… How precious are those times when we're so caught up in Him and in our communion with Him that everything else seems to melt away.
Don't you wish that every time of prayer could find you lost in the presence of God? If you're like me, though, other things compete for and distract from the kind of undivided attention, love, and devotion needed to be truly lost in His presence.
Instead, you may find yourself lost in the presence of the worries of the day or simply the details of certain pressing tasks. Or perhaps, like me, as you quiet your mind and approach a time of prayer, you have a tendency to become too introspective and get tied up in yourself rather than caught up in God.
Such are the challenges of spending time in prayer. If you struggle with similar problems in prayer, don't give up. Join me in training our eyes to look away from the worries and the details, to look away from self. Let's turn our eyes to Jesus and keep them there. Let's go get lost in the presence of God.
"But my eyes are fixed on you, O Sovereign LORD; in you I take refuge…" Psalm 141:8
*Flickr photo by kelsey_lovefusionphoto
*The Life Notes Subscriber Appreciation Giveaway is still underway. Details are in my Oct. 10 post and sign-up is to the right. Don't miss out on the chance to win a $25 gift card to Barnes & Noble!