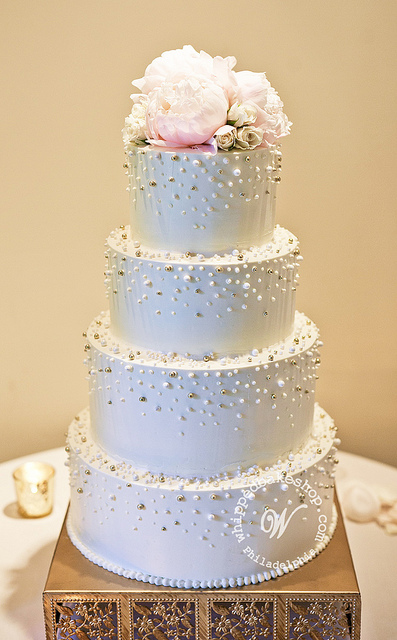 Mother of the Bride, are you and your bride-to-be daughter gathering ideas for a wedding cake yet? It's so much fun looking at all the possibilities out there—and if you think that's fun, just wait until it's time to taste a few. My husband even wanted to get in on that aspect of wedding planning!
The scattered pearls cake pictured above is a great one to share with your daughter. The cake top with fresh flowers and adorned with edible pearls looks both elegant and lovely as well as interesting yet delicate. And, of course, since pearls fit in well with almost any wedding décor, this cake idea is very versatile.
The cake above features ivory and gold pearls and would look amazing with almost any color scheme, but other color combinations could work as well. If silver would fit in better with the bride's chosen colors and décor, silver pearls and a silver cake stand could easily be substituted for the gold. Since other colors of edible pearls are also available, your daughter might even choose one of her actual colors to be one shade of pearls adorning the cake.
So MOB, why not see what your little-girl-turned-bride thinks of the scattered pearl cake. The search for the perfect cake might just be over. If so, let the tasting begin!
*You might also like to read Wedding Cake Idea: The Drape Effect, Wedding Cake Idea: Coconut Cloud, Wedding Cake Trend: Ruffles!, Wedding Cake Idea: Beautiful Brooch Accents!

*Flickr photo by Whipped Bakeshop, Creative Commons License