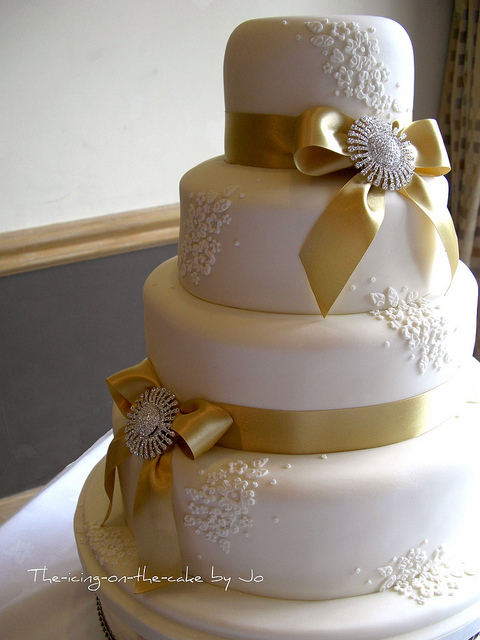 Mother of the Bride, here's a gorgeous wedding cake idea that uses an unusual accent—brooches! A couple of weeks ago I showed you some dazzling examples of brooch bouquets, so why not carry that dazzle factor on over to the wedding cake?
Brooches could be used in a variety of ways on a wedding cake, but one simple way—as shown in the photo above—uses two beautiful matching brooches well-positioned on bows made of ribbon. What perfect accents those brooches and bows make. So elegant!
Also think of the possible uses for the brooches after the cake is cut and the guests are served. The bride and groom might want to give them to you and the mother of the groom as a special memento of the day (fun!), or the newlyweds could use them in several different ways as decorative accents in floral arrangements or other décor in their home. Think of all the potential ideas—and they'd each one carry the treasured memory of their wedding day.
So, MOB, see what your daughter thinks of brooch accents for the cake and then have fun brainstorming all the possibilities. Whatever you decide will shine, right?!
*You might also like to read Wedding Cake Trend: Multiple Mini Cakes, Wedding Cake Idea: The Drape Effect, and New Wedding Cake Trend: The Ombre Cake.
*Flickr photo by the-icing-on-the-cake, Creative Commons License
*The Life Notes Subscriber Appreciation Giveaway is underway. Details are in my Oct. 16 post on my home page and sign-up is to the right under "Free For You." Deadline is 6 p.m. Nov. 12. Don't miss out on the chance to win a $25 gift card to Barnes & Noble!