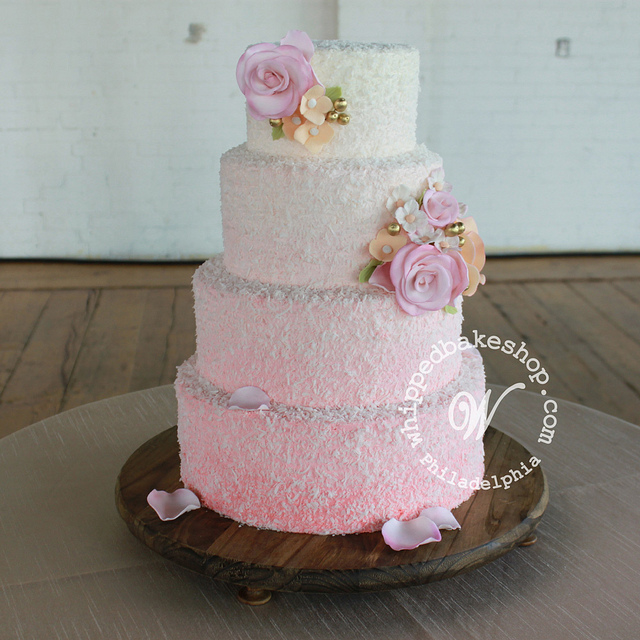 Mother of the Bride, are you and your little-girl-turned-bride-to-be looking at wedding cakes yet? If so, you've probably discovered a plethora of choices. Allow me to add one other today.
The coconut cloud cake puts a whole new spin—and texture—to a traditional cake. Not only is it a perfect choice if the bride and groom are coconut lovers, but it will allow their cake to stand out as a little more unique than many others.
I especially like the coconut touch on an ombre cake (as pictured above.) The coconut shows up better when using a variety of colors, plus it allows the happy couple to incorporate one of their wedding colors if they'd like. The coconut cloud effect with the pink used in this cake almost gives a sunrise or sunset look, doesn't it? Other colors will create other beautiful moods and images, but an all-white cake would look stunning as well.
Hope you and your daughter have fun, MOB, looking at all the cake choices out there. I know you'll enjoy taste-testing when the time comes!
*You might also like to read New Wedding Cake Trend: The Ombre Cake, Wedding Cake Idea: The Textured Cake, and Wedding Cake Trend: Ruffles!
*The new issue of Life Notes, my quarterly inspirational newsletter, came out early this month. It's not too late to receive it. Sign-up is free and to the right!
*Be sure to enter the Back At It Giveaway over on my home page. Deadline to enter is 6 p.m. (Central) August 26.
*Flickr photo by Whipped Bakeshop, Creative Commons License