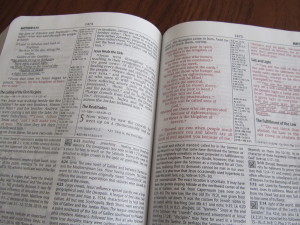 Last fall I started reading through the gospels bit by bit as part of my daily Bible reading. For some reason I just felt drawn to reading the accounts of my Savior's life once more. I've finished Matthew and will go on to Mark later. (I'm currently reading Genesis since I was drawn to it recently as well.)
The main thing that struck me as I did my gospel reading this time was how much I eagerly anticipated and enjoyed reading the words in red—the words of Jesus. I thought these are the words that Jesus spoke, this is what came from my Savior's lips. I wanted to read every word he uttered.
Each day my eyes zeroed in on the words in red. I noticed them coming. My eyes and my ears perked up. I grew excited in my spirit. I wanted to hear from Jesus.
As I read the words my Savior spoke so many years ago, I savored them. It was almost as if I could hear him speaking. Knowing that he spoke those very words touched a chord deep within my heart. The Savior who loves me, who died for me, spoke those words. And they were precious to me.
I guess that shouldn't come as a big surprise, though, should it? Much the same thing happens when we lose loved ones. We yearn to hear from them. We search for messages they've left behind or words they've written down. We watch for their handwriting and our eyes zero in on their words when we find them. We savor any remembrance of them.
So when my heart felt so drawn to the words of Jesus, when I treasured them so much, my love for him was evident. And it was good for me to see that evidence in my life. It reaffirmed my close relationship to him. In these days of ours on earth when living by faith can sometimes be hard, it helps to see evidence of our faith, doesn't it?
If you haven't read the words of Jesus lately, I highly recommend it. I think you'll enjoy hearing the words our Savior spoke as much as I have. For they are precious words indeed.
"'Heaven and earth will pass away, but my words will never pass away.'" Matthew 24:35
*What are some of your favorite words that Jesus spoke?
*My photo