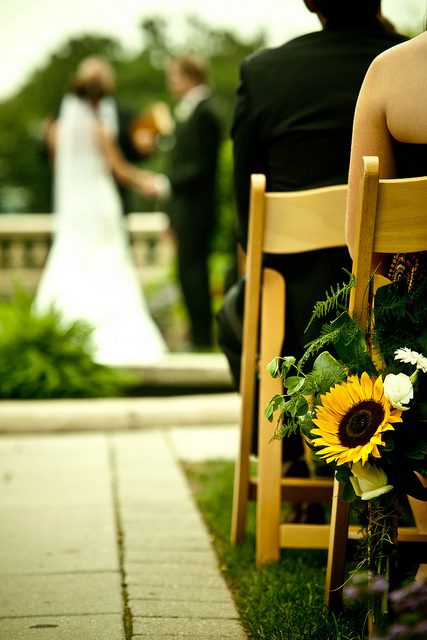 Looking for great wedding photo ideas, Mother of the Bride? See if the photographer could capture a few with the bride and groom in bokeh effect (an out of focus blur effect), using them as the background of a shot of something or someone else in the wedding.
The happy-couple-as-background bokeh shot above is actually a shot of the chair décor, but notice how having the bride and groom in a soft blur as a backdrop not only makes the shot artsy but extra special as well. This particular photographic remembrance of sunflowers as the chair décor for the wedding is so much more interesting and gorgeous than a simple straightforward shot of the chair and its adornment, isn't it?
Possibilities abound for photos using this bride and groom bokeh effect. In addition to chair or pew décor as the focus of the shot, the photographer could also use the cake, champagne glasses, the parents of the bride and/or groom, the gift table, or a floral arrangement as the focal point of the shot. The ideas can go on and on.
So, MOB, talk with your daughter and see if she'd like to talk bride and groom bokeh with the photographer. Beauty awaits!
*You might also like to read Wedding Photo Idea: Groom Admires His Bride, Wedding Day Photo Idea: Bouquets in a Bunch, Photo Idea: Bridesmaids Blow the Groom a Kiss!, Wedding Photo Idea: A Shared Faith, and Wedding Photo Idea: The Corner Shot.
*Flickr photo by charamelody, Creative Commons License