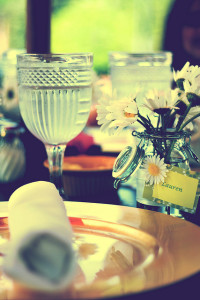 Mother of the Bride, have you thought about treating your daughter's bridesmaids to a luncheon or some other fun outing—like getting their nails done or having dessert together? Since these special ladies make sacrifices to join your girl for her big day, it's such a nice gesture to honor them in some way.
Just think of all that the bridesmaids do when they're asked to be a part of the wedding party. In today's world, many of them pay for their own dresses—whatever the bride chooses for them. Often they have to buy a new pair of shoes in a color the bride has selected. Many have travel expenses and may even have to stay at a hotel, all on their own dime. Most also pay to have their hair styled for the big day. With wedding expenses as high as they are now, most brides' families simply cannot afford to pay for all of these bridesmaids' expenses.
The least the mother of the bride can do to show appreciation is offer to treat her daughter's attendants to something special. When my oldest daughter got married, I hosted a luncheon for the bridesmaids and invited the groom's mother and sisters as well. We met at a nice restaurant a couple of days before the wedding and enjoyed delicious food and fun girl talk. The girls had not been together for quite some time so it provided a sweet time of reunion, too.
When my younger daughter got married, I offered to do something similar for her bridesmaids, but travel and family schedules just didn't allow it. Every wedding will not be the same, and that's okay. You just have to go with what will work for you and the members of the bridal party.
So check with your daughter, MOB, and make the offer. Take your cues from her. Here's hoping schedules will allow you to treat the girls to some pre-wedding fun!
*What other ideas would work as a special treat for the bridesmaids?
*Flickr photo by Sweet Carolina Photography
*It's not too late to receive the new issue of Life Notes, my quarterly inspirational newsletter. It's a special Advent issue this time. Sign-up is free and to the right!