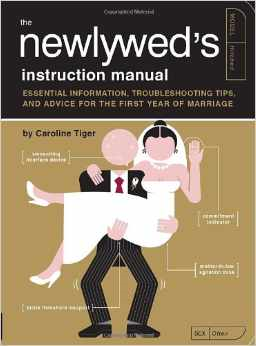 Looking for a fun little something extra to stick in with your shower or wedding gift, Mother of the Bride? You might feel like a gift of china, cookware, or flatware doesn't have a keepsake feel to it so you'd like to personalize your gift a bit. Maybe a pretty frame or a Christmas ornament or something like today's idea—a book!
What fresh-from-the-altar couple wouldn't love to have a copy of The Newlywed's Instruction Manual: Essential Information, Troubleshooting Tips, and Advice for the First Year of Marriage? I haven't read the book myself, but reviews point out lots of helpful advice served up with a touch of humor, including amusing diagrams and pictures. The Newlywed's Instruction Manual is another offering in the Owner's and Instruction Manual series—two of which I've featured previously here on the Mother of the Bride Blog (see links below).
 Anything to help make all the adjustments in the first year of marriage a little more lighthearted has to be a win, right, MOB? Go for it!
*You might also like to read Book for the Bride: The Bride's Instruction Manual and Building a Bridge to the Groom .
*The next issue of Life Notes, my quarterly inspirational newsletter, will come out next week. Sign-up is free and to the right!
*Photo from Amazon.com