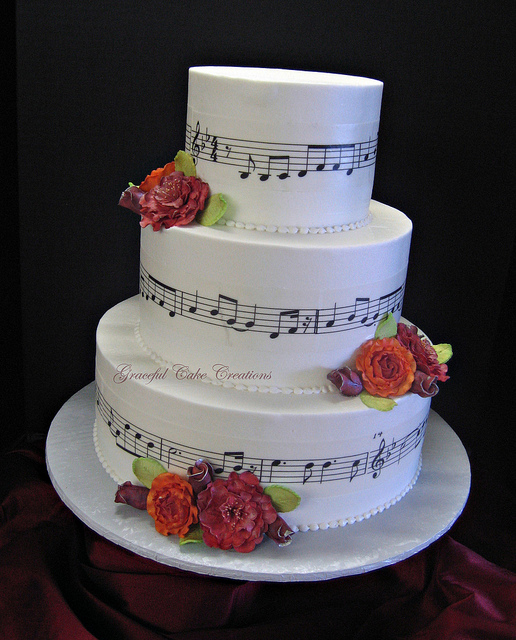 Mother of the Bride, does your sweet couple also happen to be a musical couple? If so, here's a wedding cake idea to share with them pronto. It's almost certain to strike a chord with them. (Sorry, I couldn't resist the musical pun. Hee hee!) 
The staff of music/sheet music look is a perfect way for musicians—or anyone for that matter—to incorporate their love for music into their wedding celebration. The example above makes quite an elegant look and of course can be accented with the colors your daughter chose for their wedding.
The choice of sheet music can add a personal touch and special meaning as well. The bride and groom might want to feature their special song from their dating and engagement days. Or they could make it the same as their "first dance" song as man and wife. The cake designer of the cake pictured above noted that the sheet music on this cake was a song composed by the groom for the bride. Whatever your happy couple chooses, MOB, it can be a sweet reflection of them.
So what do you think, MOB—an idea worth sharing with your daughter and her beloved? Hope it proves to be the perfect suggestion for some very special couples out there!
*You might also like to read Wedding Cake Roundup. 
*For info about my book Mother of the Bride check out my Books/My Work page.
*The next issue of Life Notes, my quarterly inspirational newsletter, comes out in early November. One lucky subscriber (new or current) will receive a $15 gift card to Starbucks and a signed copy of my book to use personally, give as a gift, or donate to a library. Sign-up is free and to the right! (If you're on a mobile device, scroll to the bottom of the screen and click View Full Site to find it.)
*Flickr photo by Graceful Cake Creations, Creative Commons License