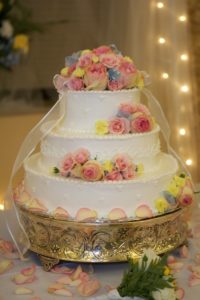 Mother of the Bride, if your darling daughter-turned-bride is ready to decide on what kind of wedding cake she'd like, then this post is for you. Counting today's, I've featured twenty design ideas for wedding cakes here on my blog since I started it nearly four years ago so I thought it was high time to do a round-up post of all the various ideas.
But before I share the round-up list, allow me to point out the photo above featuring my daughter Kristin's cake. The top was completely covered in fresh flowers while fresh flowers provided accents on the other layers as well. The fresh flower petals rimming the bottom layer and scattered on the tablecloth added the exquisite finishing touch to the overall floral look. It was absolutely beautiful and oh so tasty.
Now for the roundup—here are the links to the cake designs I've featured thus far:
Wedding Cake Idea: The Drape Effect
Wedding Cake Idea: Coconut Cloud
Wedding Cake Idea: Beautiful Brooch Accents!
A Berry Beautiful Wedding Cake
Traditional Wedding Cake Twist: The Naked Cake
Winter Wedding Cake Idea: Snowflakes!
Cake Idea for the Rustic Wedding
Unique Wedding Cake Idea: Word Search Cake!
Wedding Cake Design: Graduating Circles
Wedding Cake Idea: The Textured Cake
Sash and Brooch Multilayer Wedding Cake
Wedding Cake Trend: Multiple Mini Cakes
Back from Break with a Monogrammed Wedding Cake!
Wedding Cake Idea: The Single Layer Cake!
New Wedding Cake Trend: The Ombre Cake
So there you have it, MOB—be sure to share with your daughter! She might just find a design idea that she wants to use or at least incorporate into her final choice. What a fun part of wedding planning, huh? Enjoy yourselves when it comes time to taste-test!
The next issue of Life Notes, my quarterly inspirational newsletter, comes out in early May. One lucky subscriber (new or current) will receive a gift valued at $20 (shipping included) from Beigetone Soaps and a signed copy of my book to use personally, give as a gift, or donate to a library. Sign-up is free and to the right!
*Photo by Chris Humphrey Photography