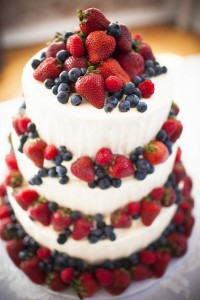 Mother of the Bride, if your daughter would like a more natural and healthy component to her wedding cake, has she considered having it adorned with berries? Nothing says fresh and healthy like fresh fruit, right? And not only that, but it will add a yummy tartness to the sweetness of the cake and be colorful, too!
Strawberries and blueberries, as pictured above, would be the perfect fruit choice for a wedding around the 4th of July—or at any time of the year if the bride's color choices are shades of red and/or blue.
But other kinds of fruit could be used as well. Can you picture other combinations using grapes, kiwi, pineapple, blackberries, melon pieces, or other types of fruit in addition to the strawberries and blueberries? Color will be a factor, of course, so it will work with the overall color scheme of the wedding, and your daughter will also want to consider what flavor of cake will complement her fruit choices—or vice versa. What fun considering all the options!
So check with your darling bride-to-be, MOB, and see if a berry beautiful wedding cake appeals to her. She might just say, "I think that's a berry good idea!"
*You might also like to read Wedding Cake Idea: Coconut Cloud.
*Flickr photo by Sean Davis, Creative Commons License