Mother of the Bride, does your little bride-to-be like to choose the road less taken? If so, she might like to extend that philosophy to some of the choices she makes for her wedding—cake included!
One alternative or twist to a more traditional wedding cake is going with a naked cake.  The naked cake trend hit the wedding scene a couple of years ago. Naked cakes aren't completely naked, of course, but frosting is limited to a more-ample-than-usual filling between the layers with various other touches on the outside of the cake.
The naked cake offers lots of options. Some brides choose to decorate their naked cakes with fresh fruit while others opt for flowers, powdered sugar, nuts, a combination of these, or even something more unusual like macarons or caramel and caramel corn. Different flavors of cake also add to any given cake's unique appearance, and sometimes different layers feature different flavors of cake which also adds a neat visual twist to the cake.
So MOB, when your daughter announces she wants to go naked for the wedding reception, don't despair—she's probably talking cake!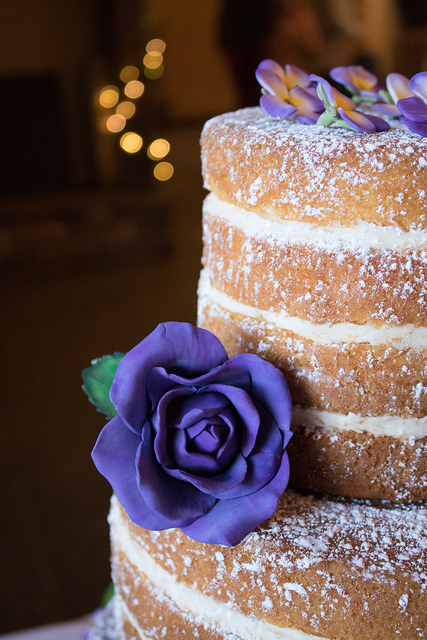 *You might also like to read A Berry Beautiful Wedding Cake and Wedding Cake Idea: Coconut Cloud.
The new issue of Life Notes, my quarterly inspirational newsletter, came out earlier this month. It's not too late to receive it. Sign-up is free and to the right!

*Flickr photos by arripay, Creative Commons License