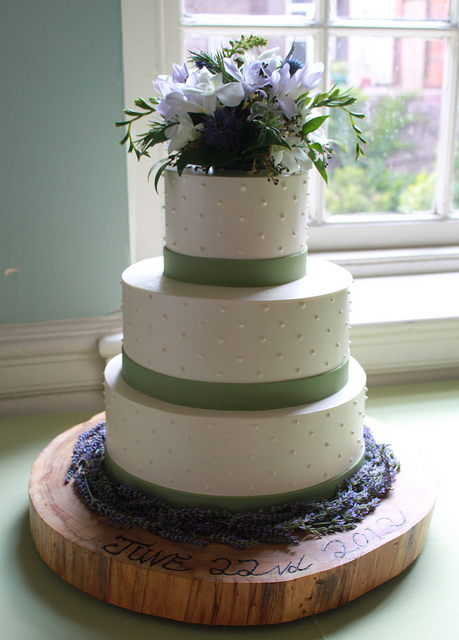 Mother of the Bride, is your daughter's style classic yet feminine? If so, share today's cake idea with her. It may be just what she's looking for after she adds her own bridal spin to it.
The detail and precision of a swiss dot wedding cake make it especially gorgeous. Like pictured above, just add ribbons around the layers and then coordinating flowers as a topper. Add more flowers at the bottom, and you've got a winner.
Also, if dotted swiss is used in the bride's gown or bridesmaids dresses or any of the other wedding décor, a swiss dot cake might be the perfect choice for a wedding cake. I love it when a particular touch from one part of the wedding carries over into other parts as well. That kind of attention to detail really shines.
So MOB, have your daughter imagine this cake accented with her wedding colors and flowers. Beautiful, yes? If this is what she chooses, it will be a hit I'm sure!
*You might also like to read Sugar Roses Still Gorgeous on Wedding Cakes , Wedding Cake Idea: The Textured Cake, Wedding Cake Idea: Beautiful Brooch Accents!, and Wedding Cake Idea: The Drape Effect.
*Take note that the cake above features a very cool wooden cake stand (with the wedding date!), but a silver, glass, or mirror stand would look especially classy with the swiss dot look as well.
*The next issue of Life Notes, my quarterly inspirational newsletter, comes out in early November. Sign up is free and to the right!
*Flickr photo by Whipped Bakeshop, Creative Commons License