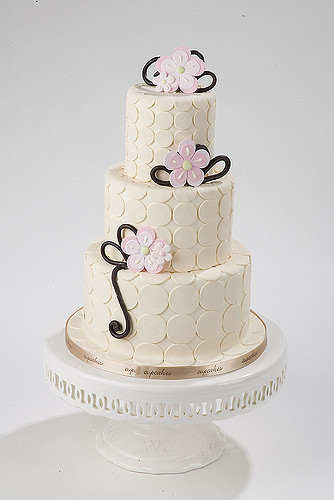 Mother of the Bride, is it time for you and your daughter to start talking wedding cakes? If so, you'll find a multitude of choices out there. Of course, your sweet girl may already have some pretty specific ideas about what she wants so that will help in narrowing down the options.
Allow me to throw one more cake design idea into the mix today—graduating circles! Notice how in the example above the circles get larger as each tier of the cake gets bigger. Makes for a striking look, doesn't it? Very classy and elegant but with a touch of circle-y fun!
The basic circle design could then be complemented by a variety of other design elements. The choices are wide open as to the accents: flowers, bows, butterflies, brooches, etc. And your daughter could incorporate her wedding colors in any way she'd like as well.
MOB, why not show this wedding cake option to your darling bride-to-be? It might provide just the unique design she's looking for—and she'll have you to thank for it!
*You might also like to read Unique Wedding Cake Idea: Word Search Cake!, A Berry Beautiful Wedding Cake, Wedding Cake Idea: Beautiful Brooch Accents!, Wedding Cake Idea: The Drape Effect, Scattered Pearls Wedding Cake, and Wedding Cake Trend: Ruffles! 
*The new issue of Life Notes, my quarterly inspirational newsletter which includes a giveaway in every regularly scheduled issue, came out last week. It's not too late to receive it. Sign-up is free and to the right!
*Flickr photo by Jamie Anderson, Creative Commons License