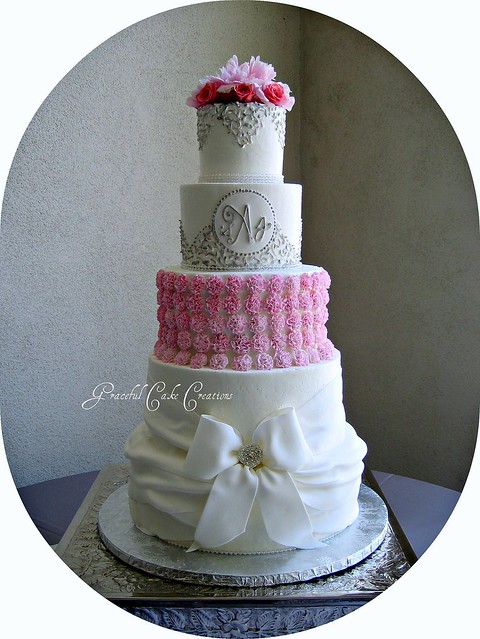 Mother of the Bride, has your daughter started her search for the wedding cake of her dreams yet? Taste testing is always a highlight of wedding planning, but sometimes deciding on a design can be difficult. There are so many great ideas out there.
If your bride-to-be is having trouble deciding on what style she likes best, maybe you could suggest a cake that combines several different elements. The cake pictured above is a great example of this. Just look at all its features—flowers, scrollwork, monograms, various colors and textures, ruffles, and a bow as well as a brooch. With five layers to play with, this designer could include a little bit of everything the bride desired!
Why not share this post with your sweet girl, MOB? It might be just the inspiration she needs to make her final selection. Then you can move on to the real fun—taste-testing!
*You might also like to read Wedding Cake Ideas for Every Season and Wedding Cake Roundup and also do a Wedding Cake search here on my blog.
*For info about my book Mother of the Bride and also my Wedding Inspiration cards, check out my Books/My Work page.
*The next issue of Life Notes, my quarterly inspirational newsletter, comes out in early May. One lucky subscriber (new or current) will receive a $15 gift card to Amazon and a signed copy of my book to use personally, give as a gift, or donate to a library. Sign-up is free and to the right! (If you're on a mobile device, scroll to the bottom of the screen and click View Full Site to find it.)
*Flicker photo by Graceful Cake Creations, Creative Commons License