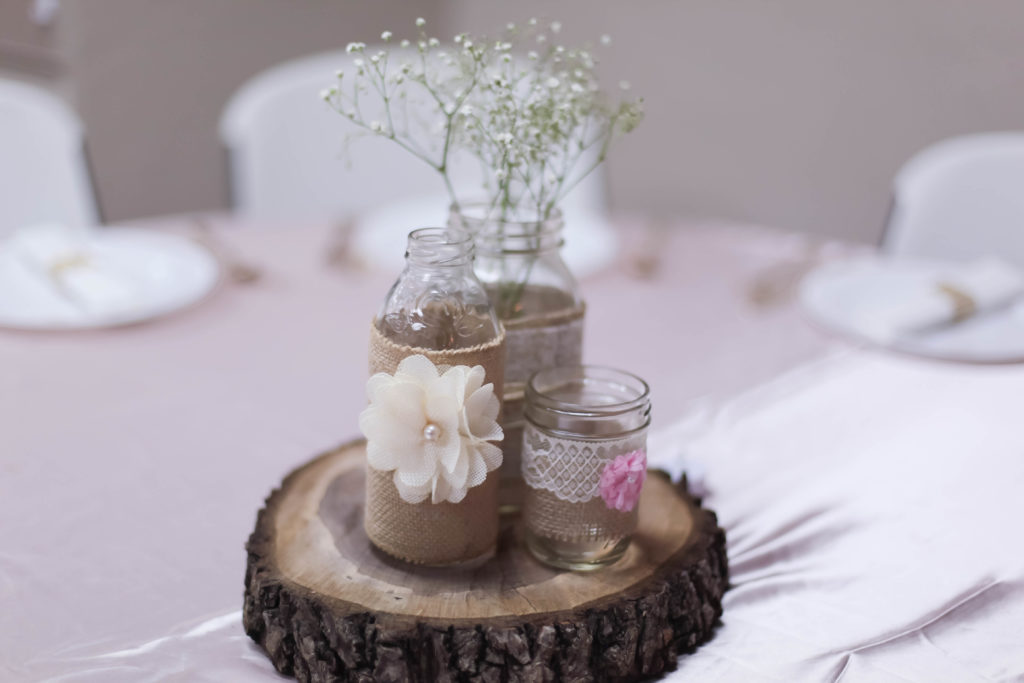 Mother of the Bride, is your sweet girl wanting to add a hint of rustic-yet-elegant to her wedding? It's certainly possible to feature some rustic touches without going full-on rustic in every aspect of the wedding. It helps that many rustic wedding décor ideas lean closer to the feminine and elegant side than to the down-home country vibe that many couples really love.
One way to add a beautiful rustic touch is with a centerpiece that says rustic and romantic all at once. The centerpiece pictured above is a perfect example. Just look—you've got jars and burlap, but you've also got lace and delicate flowers. And what do you end up with? A centerpiece that exudes romance and beauty but also casual simplicity.
Also, consider the elements that make this centerpiece work so beautifully—the odd number (three jars) used, the various heights used as well as various shapes of the jars, the base that ties in to the theme, and the colors that work so well together. All of these things work together to make such a pretty centerpiece.
So MOB, why not show this centerpiece to your daughter and see if it (or something similar) would help her add that hint of rustic that she'd like to include in her Big Day festivities. She may love it—and you'd get to check one more thing off your list! Fingers crossed for you, MOB!
*You might also like to read Rustic Wedding Resource, Rustic Wedding Ideas: Boot Bouquets, and Cake Idea for the Rustic Wedding.
*For info about my book Mother of the Bride check out my Books/My Work page.
*The new issue of Life Notes, my quarterly inspirational newsletter with a giveaway in every regularly scheduled issue, came out last week. It's not too late to receive it. Sign-up is free and to the right! (If you're on a mobile device, scroll to the bottom of the screen and click View Full Site to find it.)
*Photo by Stephtphotography