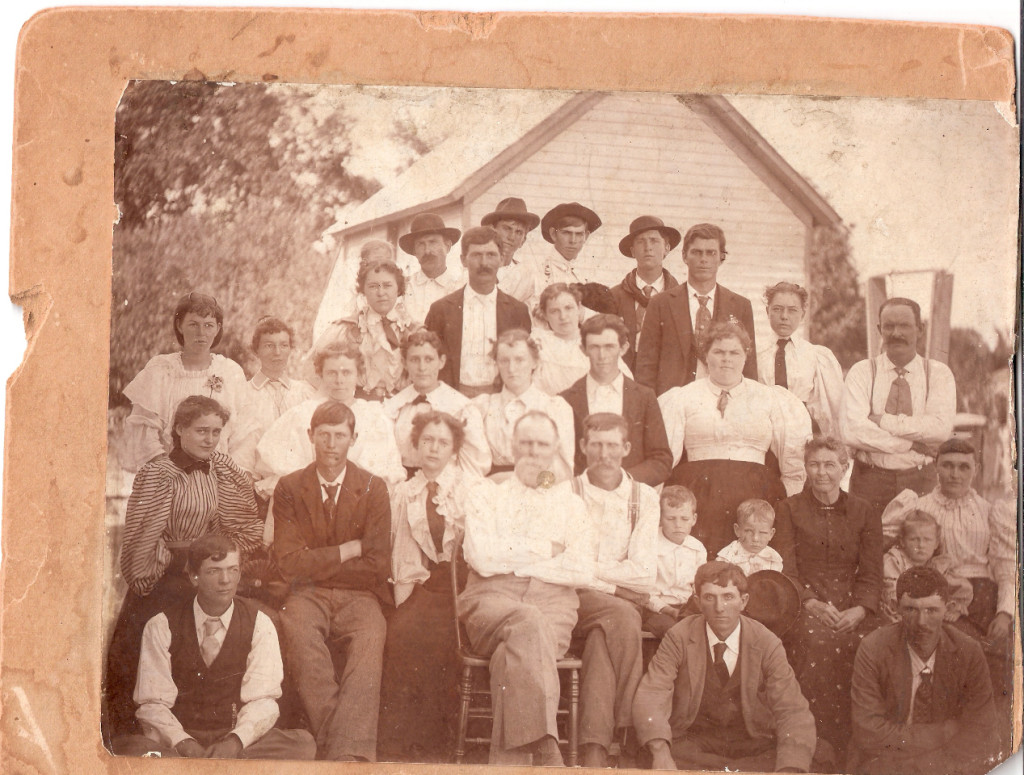 *With Memorial Day coming and with my mom celebrating her birthday in heaven for the first time today, family roots are on my mind and heart this week. I hope you enjoy this encore presentation from Oct. 2012 as you prepare for your Memorial Day holiday celebration.
Ancestors. Genealogies. Roots. We all have them. Some of us can trace them back for centuries and others of us are lucky to have information on three or four generations preceding ours.
Whatever our time frame, we find our personal history interesting, don't we? We look at photos of family members who were long gone by the time we entered the world, and we see resemblances to ourselves, our parents, or our grandparents. We hear stories about the generations gone before, and we take note of jobs or interests that are similar to those in our family today. We become aware of our roots and feel a bond.
Recently I discovered my writing roots. Thanks to Mom and Dad's recent move and the packing that preceded it, reminders of other writers before me in our family came to light. Reminders in the form of diaries.
As far as I know, I'm the first in my family who has pursued writing for publication, but I'm not the first who has shown an interest in writing.  My Grandpa Hoy and my Grandma Barnes, both kept five-year diaries—the ones that were popular so many years ago. My dad kept one as well when I was growing up. I even started keeping one when I was young, but I didn't stick with it. I do, however, have several journals in the works now :)
I'd say writing is in my blood. Seeds for my desire to write were planted years ago by grandparents on each side of my family. Not only did they plant the seeds with their faithful recording of the daily weather and happenings on their farms and in the lives of our family, but I like to think they passed down an aptitude for writing as well. I'm just the one who has finally let those seeds take root and grow.
My writing roots are just one aspect of the total root system of my life. I also have Irish and Scottish roots, farming roots, homemaking roots, musical roots, and spiritual roots—and the list goes on. I'm especially grateful for the blessing of the Christian heritage in our family that lives on now in our lives and the lives of our children.
Let's all take a few minutes to consider our root systems and say a prayer of thanks for all those who have come before. And then let's consider what seeds we are planting today. What kind of roots will future generations be able to lay claim to because of us?
"A good man leaves an inheritance for his children's children . . ." Proverbs 13:22a
What kind of inheritance do you hope to leave for your children and grandchildren?
*The photo above is of my great-great Grandpa Hoy and family, possibly taken in 1896. He is seated in the center (has a gray beard and wearing a white shirt). He came from Ireland around 1854, stowing away on a ship with his brother when he was sixteen years old. They got separated in New York City after arriving. They never saw one another again.
*The new issue of Life Notes, my quarterly inspirational newsletter, came out earlier this month. It's not too late to receive it. Sign-up is free and to the right!