*7-24-17 – Winner is Laura! Congrats, Laura! I'll get your winnings to you soon!
Last year at this time I was in the midst of celebrating the launch of my book Mother of the Bride. Since July 1st was the official launch date, I consider that the book's official "birthday" too. So now my book baby is one year old!

If you weren't a mother of the bride last July, you probably missed all the hoopla. I hosted a big giveaway here on my website, my family sent me flowers, and friends and fellow writers wished me well and shared the book via social media. Later in the month, I had a launch party at our local library. After all, the birth of a book calls for lots of celebration!
I think a first birthday calls for some celebration too so how about another giveaway? One lucky commenter will win a signed copy of my book along with a set of the Wedding Inspiration cards I developed a few months ago (see below.) For those who are reading this but are not mothers of the bride, you don't have to be a mother of the bride to enter. The book and cards also make perfect gifts, and I love to see the book donated to church and public libraries as well. For a description of the book along with endorsements, I'll link you to the Books section of my website.
Now for the giveaway. Here's how it will work—and you must follow the instructions to qualify for the entries. You may list all of your entries (as outlined below) in one comment:
*1 entry for leaving a comment on this post here on my website. The comments on Facebook are greatly appreciated, but to be entered in the giveaway, you must leave a comment here.
*2 entries for Liking my Cheryl Barker, Writer Facebook page (tell me in the comments.) If you've already Liked the page, just say so. That definitely counts!
*3 entries for sharing the giveaway on Facebook or Twitter (tell me in the comments.)
*4 entries for subscribing to Life Notes, my free quarterly inspirational newsletter (tell me in the comments but be sure to confirm your subscription when you get a confirmation email.) Sign-up is to the right under "Free For You". (If you're on a mobile device, scroll to the bottom of the screen and click View Full Site to find it.) If you're already a Life Notes subscriber, you bet that counts. Just mention it in your comment.
*Giveaway is open to US residents only due to customs and mailing costs.
*Drawing will be done by Random.Org.
Enter by noon CST July 22nd, and I will update this post with the winner announcement as soon as I'm able, depending on travels, etc.
I won't be posting here again until August 1st. Yes, that's a long blogging break, but July is going to be a super busy month for me so I'm being kind to myself and taking a break. I've learned it's okay to do that!
For "mother of the bride" help in the meantime, check out my list of Favorite Posts and also the drop down menu in the Archives. You'll find both of these on the sidebar. (If you're on a mobile device, scroll to the bottom of the screen and click View Full Site to find them.) I encourage you to check out my Pinterest boards for some great ideas as well. Have fun with all of that, MOB, and I'll see back here on August 1st!
The next issue of Life Notes, my quarterly inspirational newsletter, comes out in early August. One lucky subscriber (new or current) will receive $15 cash (summer mad money!) and a signed copy of my book to use personally, give as a gift, or donate to a library. Sign-up is free and to the right! (If you're on a mobile device, scroll to the bottom of the screen and click View Full Site to find it.)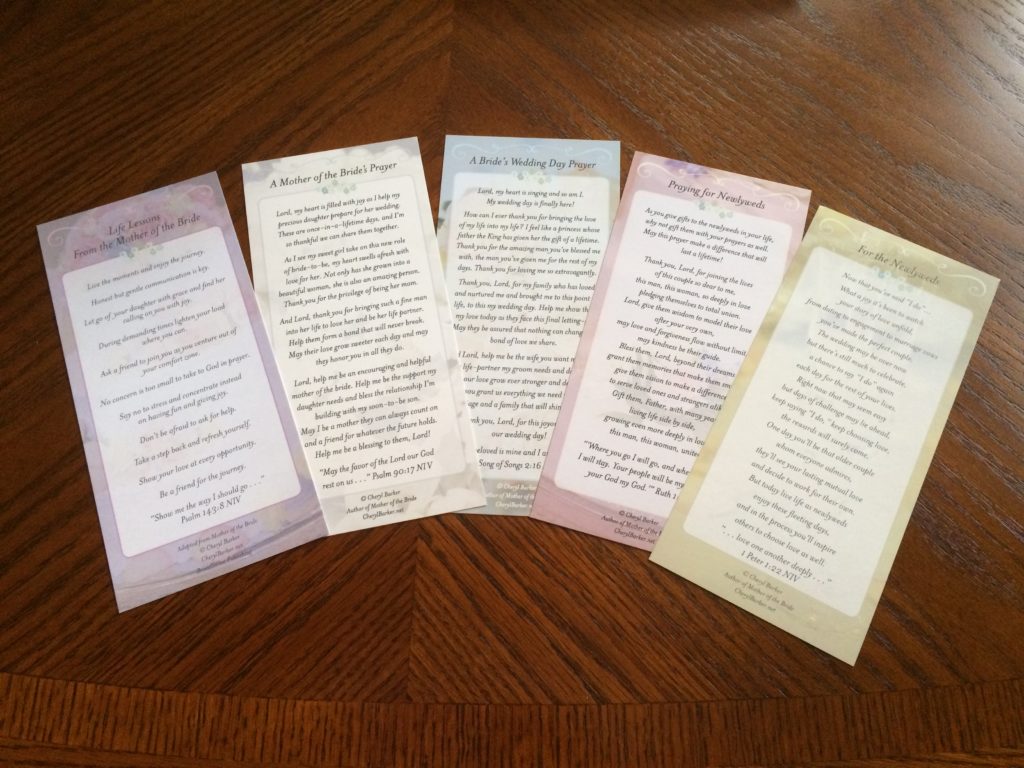 Left to right: Life Lessons from the Mother of the Bride, A Mother of the Bride's Prayer, A Bride's Wedding Day Prayer, Praying for Newlyweds, and For the Newlyweds.