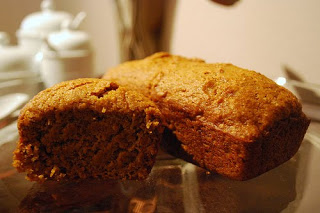 What a difference a week can make. And not just in the political season, but in nature's seasons, as well. Just this past week, the leaves in our area finally put on a show for us. For a couple of glorious days, we enjoyed trees peaking with color and leaves dancing their way to the ground. One here, one there — just the right amount to create a peaceful scene. But then the winds swept in, and the gentle dance became a chaotic flurry.
So now, before the Christmas season sneaks up on us and autumn slips completely away, I'm in a flurry to do something to celebrate fall here on Cheryl's R & R. For the next few days, let's have some fall fun. Let's talk about our favorite pumpkin foods and treats.
Me? I'm not a fan of pumpkin pie, but I love pumpkin bread. Made some just yesterday, in fact. I use the same recipe that my mom has used ever since I can remember, and Kristin has already adopted it as hers as well. Not sure if Kelli has tried pumpkin bread yet :) For me and my family, though, pumpkin bread speaks of comfort, of home, of good memories.
Your turn now :) What's your yummy pumpkin favorite? Tell us with a comment — and feel free to post the recipe if you have time. I'll include mine below along with a little something to feed your soul. Come on and join the fall fun!
Pumpkin Bread
Cream: 2 & 3/4 c. sugar and 1 c. Crisco shortening
Add: 3 eggs, one at a time and then approx. 2 c. pumpkin
Mix together the following and then add to above mixture and stir by hand:
3 & 1/2 c. flour
1/2 t. baking powder
1 t. soda
3/4 t. cloves
1 t. nutmeg
3/4 t. allspice
1 t. cinnamon
2 t. salt (scant)
Grease 2 loaf pans. Divide dough into pans and bake at 325 for 1 hr. 15 min (depends on your oven — mine takes about 1 hr. 5 min). Cool on wire rack & then add glaze: powdered sugar, boiling water (doesn't take much) & a little vanilla. Freezes well.
And now something yummy for your soul:
"Taste and see that the Lord is good; blessed is the man who takes refuge in him." Psalm 34:8

*Don't forget to tell us about your favorite pumpkin treat — and maybe even leave a recipe! :)
*Flickr photo by PlayfulLibrarian