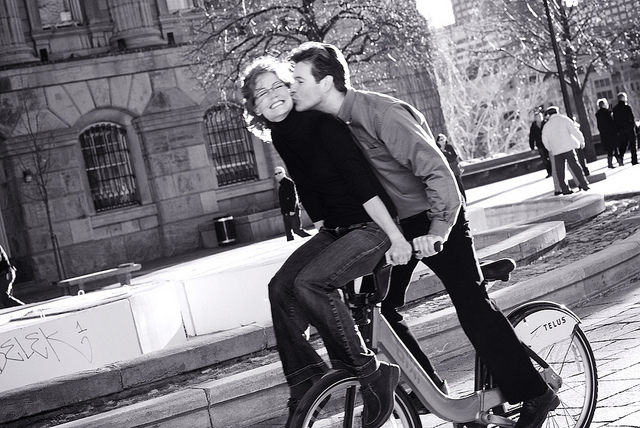 In love and having fun together on a bike—what a great engagement photo idea! Mother of the Bride, if the soon-to-be-married couple in your life loves fun and adventure and doesn't mind taking a bit of a risk, suggest a shot like the one above for their engagement photo session.
With Prince Charming pedaling and your daughter on the handlebars, a variety of shots are sure to unfold. This one with the kiss is priceless. Can't you just imagine some of the other shots that could transpire? What fun!
MOB, tell your son-in-law to-be to knock himself out and see what kind of shenanigans he can pull off—while still keeping them both safe! No injuries allowed! :)
*You might also like to read Frame That Moment and Playground Fun.
*Flickr Photo by Esther Gibbons, Creative Commons License
*The new issue of Life Notes, my quarterly inspirational newsletter, came out earlier this month. It's not too late to receive it. Sign-up is free and to the right!
**Find details for the "Back At It" Giveaway on my home page!