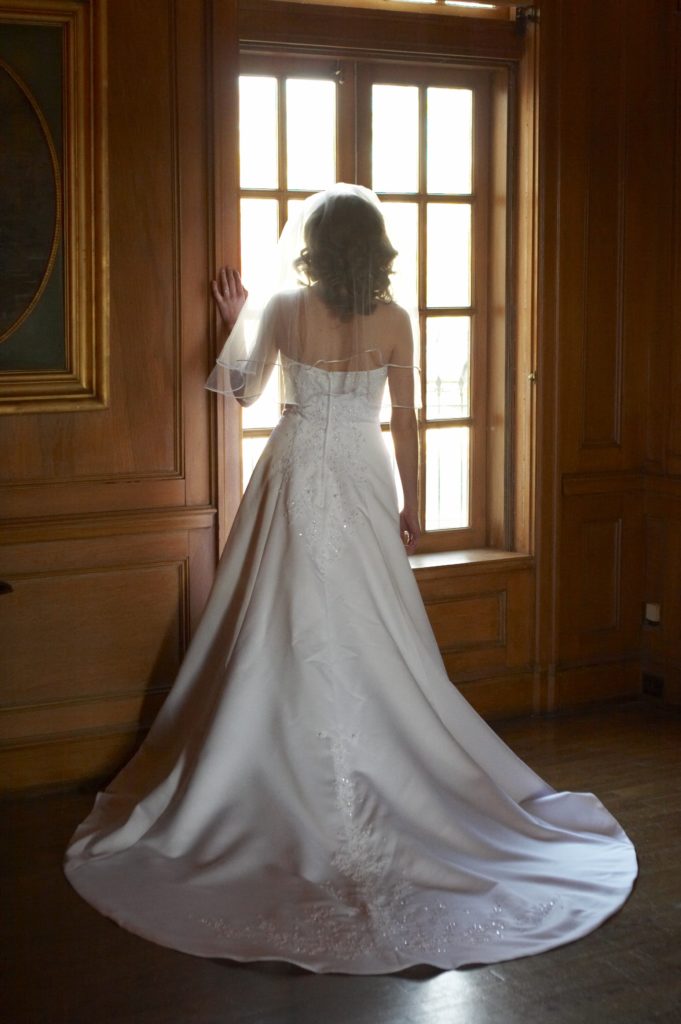 Mother of the Bride, isn't this photo gorgeous and precious all at the same time? I may be a little biased since the bride is my sweet daughter Kristin, but this particular pose of watching for the groom conveys so much—grown up beauty and the promise of joy as well as little girl excitement and overflowing love. As they say, a picture is worth a thousand words.
Notice how Kristin's photographer, Chris Humphrey, chose a beautiful spot for this shot and took advantage of perfect afternoon sunlight coming through the windows. You might ask your daughter's photographer if he knows a location where he might be able to get a similar shot of your bride-to-be.
So MOB, when it comes time for your daughter's bridal portrait day—one of the most delightful wedding planning days you'll experience, by the way—keep your fingers crossed for a "watching for the groom" shot. I promise it will immediately become a favorite!
*You might also like to read Bridal Portrait Idea: A Shot with Mom, Bridal Portrait + Fancy Sofa = Perfect Bridal Portrait, Bridal Portrait Idea: A Stairway Shot, Bridal Portraits: Include Some Artsy Shots, and Bridal Portrait Idea: A Mirror Shot. 
*For info about my book Mother of the Bride check out my Books/My Work page.
*The next issue of Life Notes, my quarterly inspirational newsletter with a giveaway in every regularly scheduled issue, will come out in early August. Sign-up is FREE and to the right! (If you're on a mobile device, scroll to the bottom of the screen and click View Full Site to find it.)
*I hope this slightly revised encore post from July 2013 was helpful to you today!
*Photo by Chris Humphrey Photography