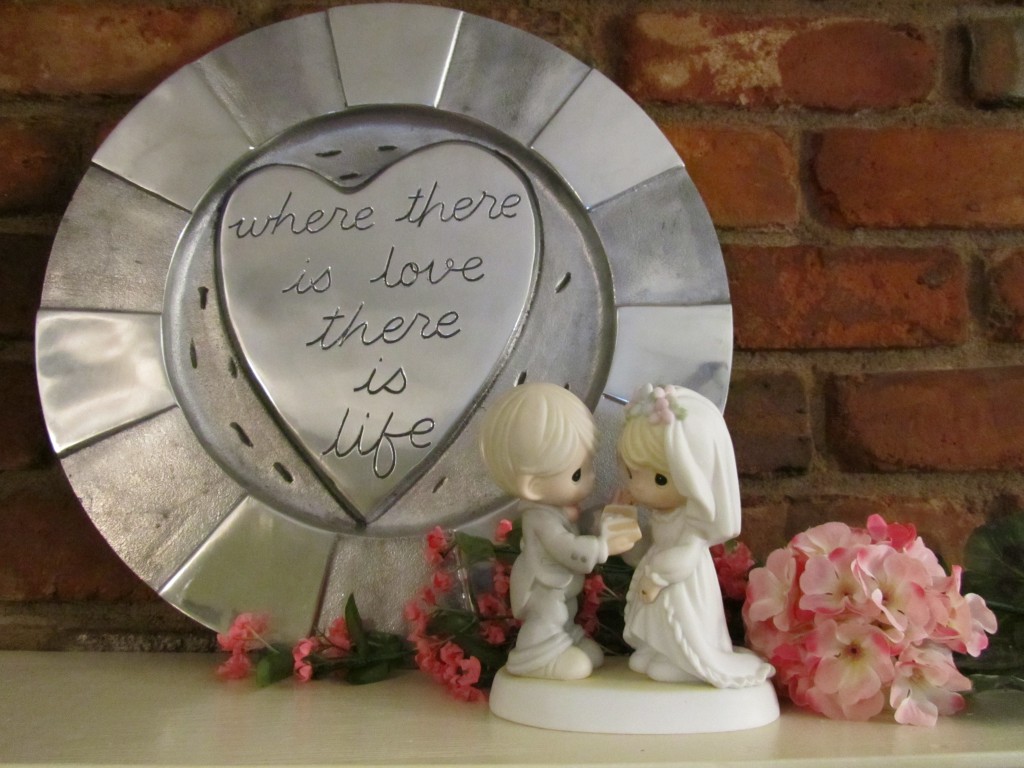 I have a prediction to make. After all you spend on your girl and her wedding, you will find yourself shopping for her again shortly after it's all over. Yes, I'm serious. You will go on the hunt for a special memento of the whole affair to give to the new Mr. and Mrs.
Your heart will be so full of joy and gratitude over the beautiful and life-changing event you helped your daughter plan that you will want to preserve the memory with a treasured memento of some sort. Something that will be a reminder of an important or best-loved aspect of the whole wedding experience.
One of the things we were most excited about during Kristin and Shawn's wedding was the cake—or more accurately, the cakes. The wedding cake and the groom's cake both were beyond divine. Scrumptious barely describes the yumminess the cakes provided us all. In short, we were enraptured by cake if that's possible :)
So when I stumbled upon a Precious Moments figurine of a bride and groom sharing a piece of wedding cake, I gasped in utter joy. I knew I'd found the perfect memento. And Kristin and Shawn heartily agreed. They loved it.
When I hit the hunt-for-a-memento trail after Kelli and Jake's wedding, I scoured several gift shops looking for that special something for them. I lucked out again when I spotted a dated Christmas ornament made by Waterford, the maker of the crystal we had given them as a wedding gift.  It featured toasting flutes. How perfect. Kelli and Jake's toasting flutes had been decorated by a long-time family friend. 
So Mother of the Bride, get ready. Your heart will most assuredly nudge you into your own memento shopping adventures. All the best in finding just the right remembrance when the time comes!
Any ideas yet of what might prove to be a special part of your daughter's wedding?
*Here's a peek at a memento another MOB made for her daughter and son-in-law.
*photos by my daughter Kristin
*Join me over on my inspirational blog and throw your name in the hat for the "Back At It" Giveaway!
*The new issue of Life Notes, my quarterly inspirational newsletter, came out the first of August. It's not too late to receive it. Sign-up is free and to the right!