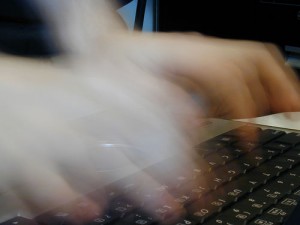 Mid-August is here and that means it's time for the annual "Back At It" giveaway—and time for me to get back to my regular style of blogging. Focusing on photos is always a welcome change for a few weeks during the summer, but it's also good to dig a little deeper and get back to offering you posts that are designed even more specifically to refresh your spirits and nourish your souls.
To help kick off my "back at it" season and since so many are thinking about back-to-school right now, I'm giving away a $15 gift card to Barnes & Noble. I love to be able to support a bookstore while doing a giveaway, and I bet you love a chance to have a few extra dollars to spend at a nearby B&N.
To be included in the giveaway, just leave a comment on this post by 6 p.m. (CDT) Wednesday, August 28. I'll announce the winner the next day in my Thursday Midweek Morsel post. If I don't know you personally or cannot contact you via your blog, you must include your email address in your comment (i.e., mary at yahoo dot com) to be eligible for the giveaway.
Any comment will work, but to make it a little more fun, tell me what you'd like to purchase if you win the gift card. Do you have a new book you've been dying to read? Do you need a fun new journal? Maybe you'd like to try a new magazines or perhaps buy a gift for someone special in your life.  I'll look forward to a peek at your would-like-have-at-B&N list!
And now, some "back at it" scripture inspiration for you:
"She sets about her work vigorously; her arms are strong for her tasks . . . She watches over the affairs of her household and does not eat the bread of idleness." Proverbs 31:17, 27
*Flickr photo by striatic, Creative Commons License
*The new issue of Life Notes, my quarterly inspirational newsletter, came out the first of August. It's not too late to receive it. Sign-up is free and to the right!